Archives of Manitoba
The 100th anniversary of the First World War is now finished but the records will continue to be preserved at the Archives and accessible to current and future generations who want to know more about the time period. In addition, this blog will remain on our website as an additional resource.

December 2014 Posts:

29 December 2014
Just a wee note…
At Christmas time during the First World War, families would have been thinking of their loved ones who were overseas serving in the armed forces. They sent letters, cards and parcels and the soldiers sent letters and cards home in return. The Isaac Cowie fonds are found in the Hudson's Bay Company Archives and include correspondence between Isaac and his son Billy (sometimes called Bill, Billy Boy or Willy). Included here are a letter dated 30 December 1915 from Billy to his father and the response dated 25 January 1916 from his father.
Billy's letter is difficult to read due to his grammar and spelling levels. He starts his letter to "Dear Dad" with "Just a wee note to let you know that I am well…" and informs his father that the weather is "offell [sic] here and it is cold too." He goes on to thank his father and other family members for items sent recently in a parcel (cigarettes, handkerchief, cake, socks and tobacco case).
His father's response comments on the weather as well as family members in both Winnipeg and England that Billy had asked about both. Lastly, he mentions the Free Press and how they check it every day for new of Billy or his battalion, "there is a list of the Canadian casualties every morning in the paper, which we look at the first thing before breakfast and are relieved to see that your name is not there."
Note: On the 25 January 1916 letter there are handwritten notes in the margin pointing to details in the letter. These notes are undated but we believe they were added by a family member later as additional information sometime before they were donated to the Archives.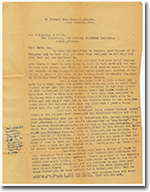 To read more about the Cowie family letters, read our blog post from 28 July 2014.
Search Tip: To read more of Isaac and William Cowie's letters, come to the Archives Research Room. The description of the Isaac Cowie fonds can be found in Keystone for by searching with keywords "Isaac Cowie."
Feedback (0)
E-mail us at archiveswebmaster@gov.mb.ca with a comment about this blog post. Your comments may be included on this page.

22 December 2014
Christmas at the Front
The Archives of Manitoba has many collections of letters written by soldiers at the front. Letters were sent home to families, friends and sweethearts in Manitoba. Letters written at Christmastime often give a sense of homesickness as well as a description of what Christmas was like in the trenches.
Dick Richardson, of Grenfell, Saskatchewan, wrote to his friend Edna Chapman, from Ninga, Manitoba, a fellow student at the Manitoba Agricultural College. Shown here are two pages from Dick's letter to Edna written on January 2, 1917 and referring to Christmas Day "greetings" with German soldiers. This would be Dick's last Christmas as he was killed at Vimy Ridge a few months later.
Dick writes:
"Christmas Day was spent much the same as any other with me for I was in the trenches then, except that Fritz and we exchanged greetings in so friendly a manner that would have opened the eyes of peaceful Canadians. I don't think it would do to go into detail."
Search Tip: Search "Edna M. Chapman Robson fonds" in Keystone for more information about Edna, Dick and to view the digitized images of these records.
Feedback (0)
E-mail us at archiveswebmaster@gov.mb.ca with a comment about this blog post. Your comments may be included on this page.

15 December 2014
What a gift! 50,000 bags of Manitoba No. 1 hard wheat flour
In September 1914 the Manitoba Government offered a gift of 50,000 bags of Manitoba flour to the Imperial Government to help with the war effort by providing food to Britain. The flour was made from Manitoba No.1 hard wheat.
The Archives of Manitoba holds a souvenir flour sack representing this gift, as part of the Ethel Hart collection. Ethel Hart was born in England ca. 1878, immigrated to Manitoba ca. 1912 and operated the general store in Griswold, Manitoba before moving to Winnipeg where she died in 1967. Her interesting collection was given to the Archives by Ethel Hart in 1966 and from her estate in 1967. It includes:
the flour sack
photographs of Griswold and area including the nearby Aboriginal reserve
several items related to T. C. Norris (the Premier of Manitoba from 1915-1922 who was originally from Griswold, Manitoba)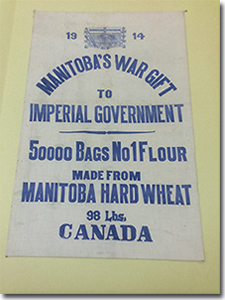 Search Tip: Search "Manitoba flour sack" or "Ethel Hart" in Keystone for more information.
Feedback (0)
E-mail us at archiveswebmaster@gov.mb.ca with a comment about this blog post. Your comments may be included on this page.

8 December 2014
At a Crossroads
In 1914, at the launch of Hudson Bay Company's wartime business in Europe, some people within the company were beginning to re-evaluate its long-time fur trade operations. Faced with a halting of fur sales in Europe due to war, these individuals began to consider the North American fur market more seriously. Plans were soon made to organize fur auctions in the United States to reduce freight and shipping costs.
Reactions during this time of transition and re-structuring were mixed. Shown here is a letter from the company's Fur Trade Commissioner Norman H. Bacon to the chair of the Canadian Committee dated 3 October 1914. Convinced that North Americans had little interest in buying furs, Bacon warns that auctions in New York "cannot see much prospect of success".
Two years later, his position is completely reversed. In a letter to Hudson's Bay Company's Governor Kindersley in 1916, Bacon reports that exports to the United States are now "five to six times in value to those taken by Great Britain" and that a failure to adapt to the situation was "certainly putting the company at an enormous disadvantage".
Search Tip: To find related correspondence, search Keystone for "General Correspondence re Fur Trade Commissioner."
Feedback (0)
E-mail us at archiveswebmaster@gov.mb.ca with a comment about this blog post. Your comments may be included on this page.

1 December 2014
On the Home Front: What's Up with the Winnipeg Streetcar Service?
The Great War brought changes to the lives of many, if not all, Manitobans. Records held at the Archives of Manitoba document many of those changes, for example, the letters sent to and from soldiers — sons, brothers and husbands — serving overseas. Other records demonstrate that many everyday activities continued at home. People went to school and to work; municipalities, towns, cities and the province of Manitoba continued to operate and offer important services.
The Manitoba Public Utilities Commission, established in 1912, continued its work throughout the First World War. The commission regulated public utilities in Manitoba including telegraph, telephone, railway or tramway transportation, water, gas, heat, light or power, and grain elevators. The commission's minute books, order books and reports provide a clear picture of the commission's work.
While the subject matter in the records is somewhat different from today — there haven't been any streetcars in Winnipeg since 1955 – many of the problems discussed are very familiar to Manitobans in 2014. Read these minutes from March 1915 about streetcars in Winnipeg. Transit users will, no doubt, recognize some of the issues discussed!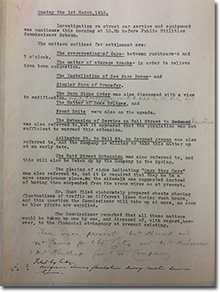 Search Tip: Search the "Public Utilities Commission" in Keystone to find more of their records.
Feedback (0)
E-mail us at archiveswebmaster@gov.mb.ca with a comment about this blog post. Your comments may be included on this page.