Archives of Manitoba
The 100th anniversary of the First World War is now finished but the records will continue to be preserved at the Archives and accessible to current and future generations who want to know more about the time period. In addition, this blog will remain on our website as an additional resource.

January 2018 Posts:

29 January 2018
New Parliament Buildings still under construction in 1918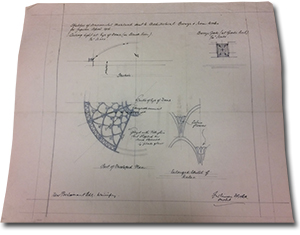 In 1918, the construction of the New Parliament Buildings (now known as the Manitoba Legislative Building) was still underway. After winning the competition to design the new building in 1912, the architectural firm Simon & Boddington had established an office in Winnipeg to oversee construction but, in 1913, Provincial Architect Victor Horwood had been made the supervising architect. In 1915, serious cost overruns led to hearings by the Public Accounts Committtee, a Royal Commission and the resignation of Premier Rodmond P. Roblin. The Office of the Provincial Architect was abolished and a Superintendent of Public Buildings was established. The responsibility for the continuing construction of the New Parliament Buildings was given to Frank Worthington Simon, senior partner of Simon & Boddington, the firm that designed the building.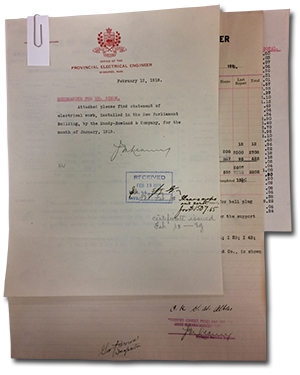 There are many records at the Archives of Manitoba that document the construction of the Legislative Building from 1913 to its official opening in July 1920. There are a large number of photographs in the L. B. Foote fonds, records in the Minister and Deputy Minister of Public Works files, as well as those of other senior government officials and hundreds of architectural drawings in a series entitled Plans and shop drawings (GS 0100).
When these drawings came to the Archives, they were accompanied by about 15 boxes of files related to the New Parliament Buildings which, upon closer inspection, are the records of Frank Worthington Simon, Architect for the New Parliament Buildings (as he signed himself after his appointment in 1915).
These records have been organized, cleaned and flattened (where necessary), foldered and listed and are now described and listed in our online Keystone database as Legislative Building architect's files (A 0273, GR13326). These records include correspondence, drawings and estimates from suppliers, trades and artists involved in the design and construction of the Legislative Building including The J. McDiarmid Company Limited, The James Ballantyne Co., Otis-Fensom Elevator Co., Piccirilli Bros., Augustus Vincent Tack, Wallace Sandstone Quarries Ltd., Architectural Bronze & Iron Works Co., G. Gardet, The Office Specialty Manufacturing Co. Ltd., The Manitoba Bridge and Iron Works Limited, Cotter Bros., and Frank Brangwyn.
Search Tip: Search "Legislative Building architect's files" in Keystone for more information. You can also search "Legislative Building" or "New Parliament Buildings" to find additional records that document the construction of the Manitoba Legislative Building.
Feedback
E-mail us at archiveswebmaster@gov.mb.ca with a comment about this blog post. Your comments may be included on this page.

22 January 2018
Kiwanis Club Luncheons, January 1918
The Kiwanis Club of Winnipeg was established in May 1917 as a business and professional men's club aimed at furthering business through networking and promoting ethical business practices, as well as community service and leadership. The club held weekly luncheons featuring guest speakers on a variety of topics. Summaries of the speakers' talks were included in the minute books of the club.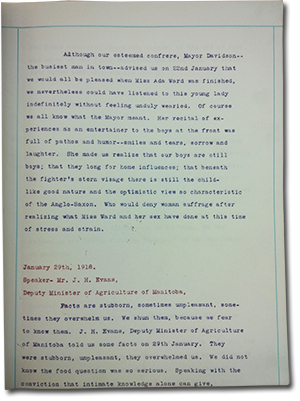 On 22 January 1918, at the luncheon held in the Fort Garry Hotel, Kiwanians listened to English entertainer Ada Ward speak about her time entertaining First World War soldiers overseas:
"Her recital of experiences as an entertainer to the boys at the front was full of pathos and humor – smiles and tears, sorrow and laughter."
Other speakers in January included Premier T. C. Norris regarding conservation and production of goods, Professor A. B. Clark of the University of Manitoba regarding the principles of taxation and J. H. Evans, deputy minister of agriculture regarding food rationing.
Search Tip: Search "Kiwanis Club" in Keystone for more information.
Feedback
E-mail us at archiveswebmaster@gov.mb.ca with a comment about this blog post. Your comments may be included on this page.

15 January 2018
"Kindly let me know": In search of loved ones on the S.S. Baykerran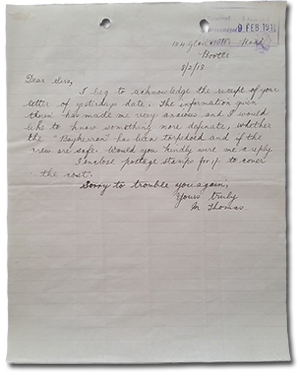 The Bay Steamship Company was a subsidiary company of the Hudson's Bay Company created in 1916 to establish a fleet of merchant vessels to supply goods during the First World War.
On 19 January 1918, the Bay Steamship Company ship, S.S. Baykerran, departed New York loaded with supplies for St. Nazaire, France. The ship left in rough weather and the sea conditions never improved. At 4 p.m. on 23 January 1918, about 500 miles south of Nova Scotia, the S.S. Baykerran sent out a wireless message requesting assistance. When the U.S. Cruiser Des Moines arrived three hours later, there was no trace of the ship, nor its crew.
In early February, family members were writing letters to the Bay Steamship Company requesting information about the ship and their loved ones. Mary Thomas wrote to ask information about 1st mate Thomas Thomas.
"Dear Sirs, I beg to acknowledge the receipt of your letter yesterdays date. The information given therein has made me very anxious and I would like to know something more definite, whether the Baykerran has been torpedoed and if the crew are safe. Would you kindly wire me a reply"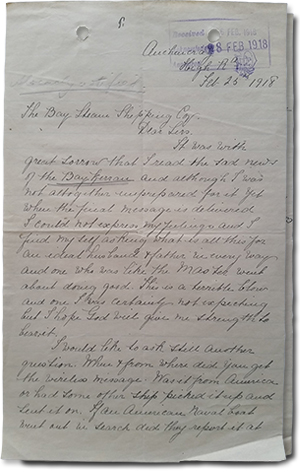 By late February, however, families appear to have received word of the ship sinking. Nellie Reid, wife of Captain M.B. Reid, wrote on 25 February 1918:
"It was with great sorrow that I read the sad news of the Baykerran and although I was not altogether unprepared for it yet when the final message is delivered I could not express my feelings and I find myself asking what is this all for. An ideal husband and father in every way and one who was like the Master went about doing good. This is a terrible blow and one I was certainly not expecting but I hope God will give me strength to bear it.
Two months after the ship sunk, the Bay Steamship Company was informing families of the detailed information they had accumulated of what happened on the day the Baykerran went missing. Mrs. C. Clode was sent the following letter on 23 March 1918.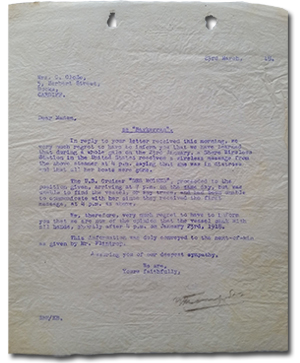 Search Tip: Bay Steamship Company records will soon be described on Keystone and available for consultation in the Archives Research Room.
Feedback
E-mail us at archiveswebmaster@gov.mb.ca with a comment about this blog post. Your comments may be included on this page.

8 January 2018
Learning to fly during the First World War
Following our open house in April 2017 commemorating the Battle of Vimy Ridge, the family of James Uhlman donated his First World War diary to the Archives of Manitoba.
James Cornelius Uhlman was born in Carleton, Nova Scotia on 12 July 1896. He was an electrical engineer when he enlisted in the Canadian Expeditionary Force in 1916. He was wounded by shrapnel at Vimy Ridge on 9 April 1917 and spent a month in hospital in England. In July he applied to transfer to the Royal Flying Corps and in September, he learned that his transfer had been approved.
Uhlman wrote brief daily entries in a small notebook from the time he enlisted in May 1916 until 31 December 1918. His diary provides some insight into the life of a pilot in the early days of flight. He took his ground training through the fall and began flight training in December. He was ready for his first solo flight in early January.

"Jan. 5. Started to take solo [flight] but rudder broke, Dismal failure of engine in next two I tryed. No more flying.

Jan. 6. Solo in A. M. Did all right. Rainy in P. M. Wrote letters in evening.

Jan.7th. Crashed. Banged my nose some shook up. Smashed machine pretty well. Helped to repair machine. Left for London in late afternoon.

Jan 8. Got discharged from Canadians in A. M. Shopping. Show in P. M. Left at ten.

Jan 9. Up for few minutes. Too windy rest of day.

Jan 10. High winds. No flying.

Jan 11. Up for few minutes. Too windy rest of day.

Jan. 12. Left for Stratford-on-Avon at 10.45. Arrived 12.35. Very bumpy. Got lunch. Left 2.55. Run out of petrol & got lost, so descended near Stockbridge. Stayed night at hotel.

Jan. 13. Got things filled up & started home at 11.20. Got in 11.40. Solo this P. M. Wrote letters at night.
Uhlman continued his training through the spring and was posted to France in June. Following the war Uhlman was a pilot with the Civil Air Operations of the Royal Canadian Air Force. He was appointed first director of the resulting Manitoba Government Air Service based in Lac du Bonnet, Manitoba in 1932 and held the position until his retirement in 1962.
Uhlman is one of several individuals featured in our hallway display. Visit the Archives of Manitoba to see this display or to see other records related to the First World War. We are located at 200 Vaughan Street in Winnipeg, and we are open Monday to Friday from 9 a.m. to 4 p.m.
Search Tip: Search "James Uhlman" in Keystone for more information.
Feedback
E-mail us at archiveswebmaster@gov.mb.ca with a comment about this blog post. Your comments may be included on this page.

2 January 2018
Lt.-Col. R. M. Dennistoun: New Year 1918 in London
Lt. Col. R. M. Dennistoun has been previously featured in two blogs, in 8 August 2017 and 14 August 2017. Dennistoun had a very different experience of the First World War than many of the Manitobans that we feature on this blog. He held the position of Deputy Judge Advocate General at Canadian Expeditionary Force headquarters in London from 1917 until the end of the war.
Dennistoun kept a diary throughout the war (and afterwards) recording his experiences of wartime in London and news about the Front, including the actions of his sons who served. In January 1918, one hundred years ago, he recorded the following: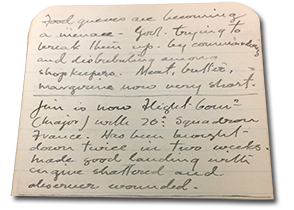 Archives of Manitoba, Robert Maxwell Dennistoun family fonds, Diary (volume 8) – London, England 20 March 1917 – 30 April 1918, P7905/8.
Thursday 3 January 1918

New Year very quiet. No great news. 18 large ships sunk this week. This is alarming. Food queues are becoming a menace. Govt. trying to break them up by commandeering and distributing among shopkeepers. Meat, butter, margarine now very short.

Jim is now Flight Comr. (Major) with 20th Squadron France. Has been brought down twice in two weeks. Made good landing with engine shattered and observer wounded.
On 8 January 1918 Dennistoun learned that he had been made Commander of the Order of the British Empire (C.B.E.) in the New Year's Honours for his wartime service. He transcribed several congratulatory letters that he received from senior military and government officials into his diary.
One was received from the Deputy Minister of Militia Walter Gow who wrote: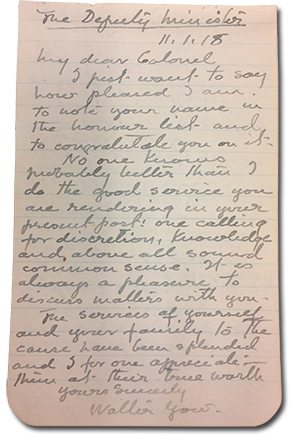 My Dear Colonel

I just want to say how pleased I am to note your name in the honour list and to congratulate you on it.

No one knows better than I do the good service you are rendering in your present post: one calling for discretion, knowledge and above all sound common sense. It is always a pleasure to discuss matters with you…
Dennistoun was invested with the C.B.E. by King George V at Buckingham Palace on 20 February 1918.
Search Tip: Search "Dennistoun" in Keystone to find out more about Robert Maxwell Dennistoun and his First World War diaries.
Feedback
E-mail us at archiveswebmaster@gov.mb.ca with a comment about this blog post. Your comments may be included on this page.