Archives of Manitoba
The 100th anniversary of the First World War is now finished but the records will continue to be preserved at the Archives and accessible to current and future generations who want to know more about the time period. In addition, this blog will remain on our website as an additional resource.

July 2018 Posts:

30 July 2018
Women supporting the war effort with the IODE
The Imperial Order of Daughters of the Empire (IODE) was a women's volunteer organization established in Quebec in 1900. The first Manitoba chapters were organized in 1909. By 1918 there were 87 Manitoba chapters, several of which were located in Winnipeg under the auspices of the Municipal Chapter while chapters located outside of Winnipeg fell under the Provincial Chapter.
During the First World War, IODE chapters were active in various activities aimed at supporting the war effort and improving the lives of soldiers and their families. Members knitted socks and other garments, sent supply parcels to soldiers overseas, and organized teas, dances, and patriotic concerts.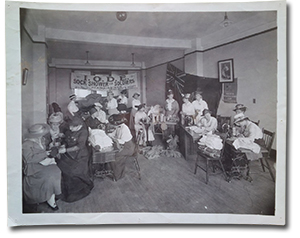 Many members of IODE chapters regularly visited soldiers in hospitals and a convalescent home for soldiers was established in Winnipeg by the IODE in 1915. IODE chapters raised funds for Victory Loan campaigns, the Red Cross and many other national and international charities. In other cases, they supplied equipment to specific military units such as their purchase of a field kitchen (valued at the time at $1200) for the 28th Battalion in 1915. (The 28th Battalion was part of the Second Contingent which is mentioned in our 1st May 1917 blog post.)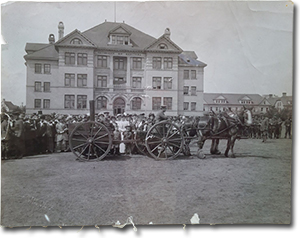 The Archives of Manitoba has nearly 10 meters of records documenting many of Manitoba's IODE chapters from 1909 to 2000.
Search Tip: Search "IODE" in Keystone to learn more about these records.
Feedback
E-mail us at archiveswebmaster@gov.mb.ca with a comment about this blog post. Your comments may be included on this page.

23 July 2018
Russian Revolution and HBC: After the Execution of the Imperial Family
As the First World War continued, the situation in revolutionary Russia was getting worse. On July 17, 1918, the entire Russian Imperial family was executed by Bolshevik troops in the city of Yekaterinburg, in the home in which they were imprisoned. This included Czar Nicholas II, his wife Czarina Alexandra, their five children, and four others who were with the royal family during their imprisonment.
The full horror of these events did not reach the Russian people immediately. The official story was that the czar had been killed, while his family had been moved to a safe place.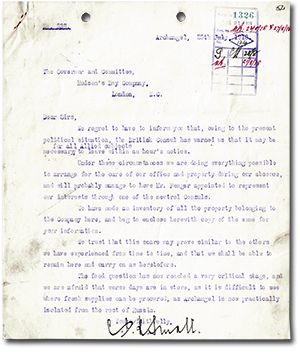 On July 25, the Czechoslovak Legion entered Yekaterinburg and drove away the Bolshevik forces. That same day, C.J.R. Small, HBC's agent in Russia, wrote to the Governor and Committee from Archangel (now called Arkhangelsk), over 1800 kilometres away from Yekaterinburg.
Small makes reference to the "present political situation" and "scare" but does not mention the events that had taken place in Yekaterinburg one week earlier. From this letter, it is difficult to discern what he knew.
He writes:
We regret to have to inform you that, owing to the present political situation, the British Consul has warned us that it may be necessary for all Allied subjects to leave within an hour's notice.
He goes on to assure the Governor and Committee that HBC's office and its contents would be looked after in the event of an evacuation. An inventory of HBC's property in Russia, including its house in Murmansk and a yacht, is enclosed.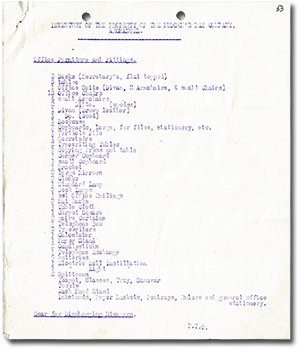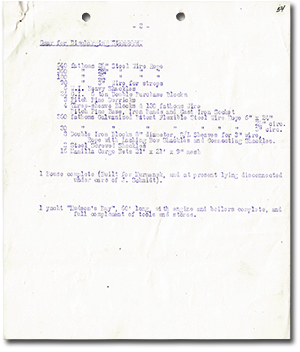 Correspondence files for Hudson's Bay Company's wartime business with European governments, Correspondence inward, Archangel, 25 July 1918, HBCA RG22/5/1005.
Small ends the letter on a bleak note:
The food question has now reached a very critical stage, and we are afraid that worse days are in store, as it is difficult to see where fresh supplies can be procured, as Archangel is now practically isolated from the rest of Russia.
One week later, on August 2, Allied forces liberated Archangel from Bolshevik control. Watch for this story next month.
Search Tip: Search "Russia" in Keystone to find more records.
Feedback
E-mail us at archiveswebmaster@gov.mb.ca with a comment about this blog post. Your comments may be included on this page.

18 July 2018
Canadian Corps Championships, France, Dominion Day, July 1st 1918
To celebrate Dominion Day in 1918, a sports championship was held for the Canadian Corps in France. Charles Francis (also featured in blogs on 24 July 2017 and 26 February 2018) sent a copy of the programme home to his mother with a letter dated 21 July 1918.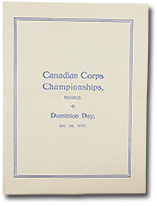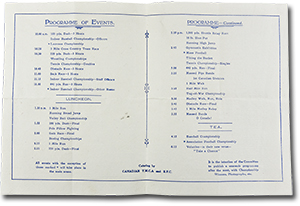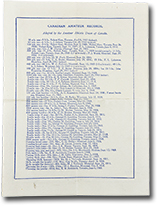 Programme of events
Archives of Manitoba, Charles Ross Francis fonds, Charles Ross Francis – Correspondence, 1898-1957, P304/2.
He doesn't write about the event, but the programme provides lots of information about the day's events. There was running, baseball, football, tug-of-war, tennis, boxing, wrestling, volleyball and lacrosse. Bands and pipe bands performed and there was a luncheon and tea with catering provided by the Canadian Y. M. C. A. and E. F. C. [Expeditionary Force Canteens].
In another of our exciting First World War records discoveries, we found that another of the soldiers whose letters we have at the Archives of Manitoba was also at the championships, and wrote about it in a letter to his mother on 7 July 1918.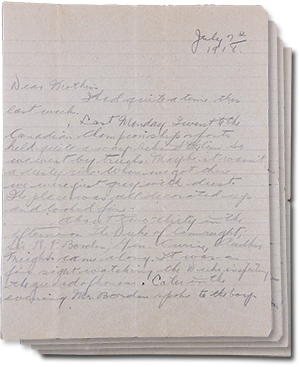 Campbell Millar (featured in blogs on 5 September 2017 and 18 December 2017) wrote that the sports championships were held "quite a way behind the line" so they went by trucks and got very dusty.
He told his mother about the dignitaries at the event including Prime Minister Robert Borden:
"About two-thirty in the afternoon The Duke of Connaught, Sir R. P. Borden, Gen. Currie, Arthur Meighen came along. It was a fine sight watching the Duke inspecting the guard of honour. Later in the evening Mr. Borden spoke to the boys and they sure rubbed it into him about leave to Canada which wasn't a very nice thing to do anyway he left France wiser I think."
Campbell Millar often wrote to his mother about the "boys" from Portage la Prairie that he met or heard about at the Front and he had lots of news from the championships:
"The day was very hot so I didn't do much hunting for Portagers but late in the afternoon I met Bill Garnier. He is in the first division artillery. Then we met Ross Carter and he took us over to where Bill, Jack and Kennie Richardson were. Jack McGuire and "Baldy" Gregg (used to work for D. G. McDonald) were with them. Major Taylor + Cap Burley had just left them before we came up so I missed seeing them. Later in the evening I met Charlie Green. Glen Cummings is in the same battalion as he is the 43rd Highlanders. Glen wasn't at the sports. Also met Gordon Watson and a number of the boys I came over with. I expected to run into Jack Cyall but he wasn't there."
There's no evidence that Charles Francis and Campbell Millar met each other at the championships (or at any other time) but it is so interesting to find and explore connections between First World War records at the archives!
Search Tip: Search "Charles Francis" or "Campbell Millar" in Keystone for more information.
Feedback
E-mail us at archiveswebmaster@gov.mb.ca with a comment about this blog post. Your comments may be included on this page.