Archives of Manitoba
The 100th anniversary of the First World War is now finished but the records will continue to be preserved at the Archives and accessible to current and future generations who want to know more about the time period. In addition, this blog will remain on our website as an additional resource.

July 2017 Posts:

31 July 2017
"Doing your duty as a free man"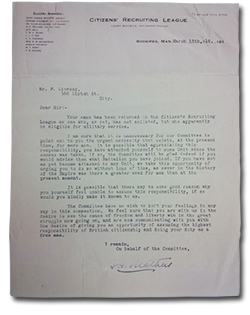 After much controversy and debate, conscription was enacted in Canada in August 1917. Before that some governments, individuals and groups actively encouraged men to enlist voluntarily. The Citizens' Recruiting League, headed by several prominent Winnipeggers including Chief Justice Thomas Mathers, was one such organization.
Fred Livesay of 166 Lipton Street received a letter from the Citizens Recruiting League in March 1916. The letter indicated that Livesay had been identified as a man eligible for military service, and inquired as to why he had not yet enlisted.
The letter concluded:
"The Committee have no wish to hurt your feelings in any way in this connection. We feel sure that you are with us in the desire to see the cause of freedom and liberty win in the great struggle now going on, and are now communicating with you with the desire of giving you an opportunity of assuming the highest responsibility of British citizenship and doing your duty as a free man."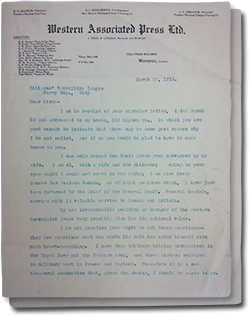 A 41-year-old husband and father of two, Livesay responded that he was ineligible to serve in the ranks due to poor eyesight, and had not been offered a commission. Furthermore, he suggested that he was serving his country through his work as press censor for Western Canada and manager of the Western Associated Press.
However, Livesay wrote:
"I do not question your right to ask these questions –– they are question each man worth his salt has asked himself with much heart-searching. I have four br[o]thers holding commission in the Royal Navy and the British Army, and three sisters employed in military work in France and England. Therefore, it is a not unnatural assumption that, given the chance, I should be eager to go."
Livesay went on to serve as a war correspondent with the Canadian Corps on the Western Front in 1918 until the end of the First World War and wrote of his experiences in his book "Canada's Hundred Days: with the Canadian Corps from Amiens to Mons, August 8 – November 11, 1918."
Search Tip: Search "J. F. B. Livesay" in Keystone for more information.
Feedback (0)
E-mail us at archiveswebmaster@gov.mb.ca with a comment about this blog post. Your comments may be included on this page.
back to top

24 July 2017
"On Active Service": Herb Francis – follow-up #2
As noted in our 1 May 2017 blog post, when we created our 2015 hallway display, "On Active Service", we looked for photographs in our holdings of each of the soldiers whose letters we were displaying. We were not able to locate photographs of two of the soldiers: Frank Leathers and Herbert Francis.
In the last few months we have located photographs of both of the men from within our holdings and have been really excited to see what these correspondents looked like! The earlier blog post was about Frank Leathers and this one is about Herb Francis.
We recently acquired the records of Colin Black, another Manitoban who served in the First World War. The archivist working on these records found that there was a photograph of Colin Black in the Lord Selkirk Association of Rupert's Land photograph album. Colin Black was the grandson of Rev. John Black, an early Red River settler.
Another archivist recalled that Herb Francis was also a grandson of Rev. Black and when it was discovered that the photograph was of some of the grandsons of Rev. Black serving in the First World War, we found that the photograph pictured Herb Francis, and his brother Charles whose records are also in the Archives' holdings!
We displayed the Lord Selkirk Association album at our recent open house to commemorate the 100th anniversary of the Battle of Vimy Ridge, alongside some of Herb and Charles' letters and other records. It was wonderful for visitors to be able to see the men who wrote the letters and to make more connections between the people and the records in our holdings!
Search Tip: Search "Lord Selkirk Association" in Keystone to find out more about the photograph album and "Sarah Margaret Francis" to find out more about Herb and Charles Francis and their First World War correspondence.
Feedback (0)
E-mail us at archiveswebmaster@gov.mb.ca with a comment about this blog post. Your comments may be included on this page.
back to top

17 July 2017
Exploring London While On Leave
Colin Francis Black was born in Carman, Manitoba in 1896. He was a student at the University of Manitoba and a member of the Canadian Officer's Training Corps (COTC) when he enlisted as a private in the 196th Battalion in 1916. Black sailed to England in November 1916 on the S. S. Southland and was stationed at Seaford Camp.
On November 28, 1916 Colin Black wrote to his father about his adventures while on leave in London.
"We got in a taxi and went to the Maple Leaf Club which is run exclusively for Canadian Soldiers by London Society. They charge 1s 4d for bed and breakfast and a real place at that. Princess Pat waiting on one of the tables one day but we didn't know it until after we were done."
Black and his friends went to theatre shows and restaurants where he noted differences between London and Manitoba society:
"Things here aren't any more expensive than any ordinary hotel but they put up in grand style. One thing strange here all the ladies smoke in the theatres and restaurants."
They also visited the sights of London including Madame Tussaud's:
"We went to the wax works too. These are world famous for their naturalness. We saw all the worlds past & present celebrities including Miss Cavell. One thing funny happened there. One of the boys stood up in a corner resting on his cane and attracted the admiration of a few girls that were passing when they got close he gave a yell and they nearly died with fright."
Colin Black served in France with the Canadian Mounted Rifles from March to August 1917. He was hospitalized with diphtheria in August 1917 in France and was then transferred to hospital in England. Black did not fully recover and was discharged from the army in March 1918.
See our 24 July 2017 blog post to learn more about the Black family and to see a photograph of Colin Black and other family members who served in the First World War.
Search Tip: Search "Colin Black" in Keystone for more information.
Feedback (0)
E-mail us at archiveswebmaster@gov.mb.ca with a comment about this blog post. Your comments may be included on this page.
back to top

10 July 2017
Enemy fire: The Nascopie encounters a German submarine
The Hudson's Bay Company is not known for its wartime heroics during the First World War. Yet one story involving the ice-breaker Nascopie placed the company in the midst of battle theatre. It involves the exchange of gunfire with a German submarine.
Captain Edmund Mack reported on the incident to the Governor and Committee in London on 30 July 1917:
"Leaving Archangel on June 12th everything proceeded satisfactorily until 2.30 pm, on the 14th when we were attacked by an enemy submarine of a large type. The vessel immediately headed into the ice and commenced to fire on the enemy. After about twenty minutes fighting our last shot caused a large explosion aboard the submarine and she was seen no more, and I have reason to believe she was sunk with all hands aboard."
In his letter, he praises his crew for their tenacity under pressure. In turn, the British Admiralty wrote to the Governor and Committee, informing them that they awarded the Nascopie's crew £150 to be divided among them.
While it was later determined that the submarine had not been sunk, the incident remains a vivid tale of the HBC's involvement in First World War.
For more stories about the Nascopie, see our previous blog posts from 12 Jan 2015, 9 Feb 2015, 2 March 2015 and 15 June 2015.
Search Tip: Search "Nascopie" in Keystone for more information on records about the Nascopie.
Feedback (0)
E-mail us at archiveswebmaster@gov.mb.ca with a comment about this blog post. Your comments may be included on this page.
back to top

4 July 2017
Celebrating Canada's 50th birthday in France 100 years ago
The Archives of Manitoba recently acquired the diary of Wilfred Conway Rutherford, a First World War soldier from La Rivière, Manitoba. He enlisted in March 1916 with the 184th Overseas Battalion and was sent to France in February of the following year.
Rutherford wrote regular, detailed entries describing his daily activities, thoughts and feelings.
In June, 1917, Rutherford and his unit were behind the lines for a rest and in his diary entry of Saturday 30 June 1917, Rutherford writes:
"When I think of tomorrow being the 1st of July I feel lonely and Sunday [too] adds to my lonely [thoughts]. A year ago I was much nearer home."
The following day he outlines the soldiers' activities in honour of Dominion Day, now known as Canada Day.
"July 1st Dominion Day. A brigade church service is held. Four bands play the hymns it is fine. Special Dominion Day pamphlets and service is held. An aeroplane hovers over our heads all through the service doing tricks that make us dazzle to watch. Yes marvellous dare devil tricks.





"11 Platoon plays 10 [Platoon] a game of indoor baseball. I catch and get the name of the "Big Noise" we beat them after an exciting game then beat nine platoon by big odds. Our major gives us a barrel of Beer for our splendid work. Sia and I draw ours but give it away to the boys. Many of the boys get best part drunk."
The following day Rutherford's unit broke camp and was on the move back up to the front line. Rutherford was wounded in the foot on July 23rd.
Wilfred Rutherford's diary will soon be described in Keystone and available for consultation in the Archives Research Room.
Feedback (0)
E-mail us at archiveswebmaster@gov.mb.ca with a comment about this blog post. Your comments may be included on this page.
back to top