Archives of Manitoba
The 100th anniversary of the First World War is now finished but the records will continue to be preserved at the Archives and accessible to current and future generations who want to know more about the time period. In addition, this blog will remain on our website as an additional resource.

April 2018 Posts:

30 April 2018
The Daniel Sayre MacKay photograph collection and the Young Soldiers Battalions
The First World War took a significant human toll on Canada. As the conflict progressed, the military needed more soldiers to replace casualties and eventually sought recruits who were below the legal age of enlistment. In Canada, Young Soldiers Battalions were created to give youth military experience and training before they could legally join the regular army.
One such battalion was commanded by Daniel Sayre MacKay, who gathered several photographs of his Young Soldiers Battalion. This collection is housed at the Archives of Manitoba and includes several photographs of this battalion.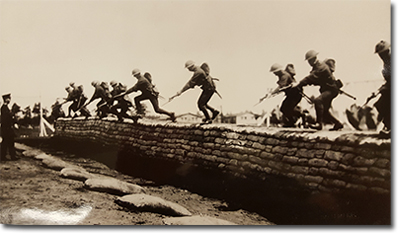 The Daniel Sayre MacKay photograph collection also includes photographs of other military units in Manitoba, including the Queen's Own Cameron Highlanders.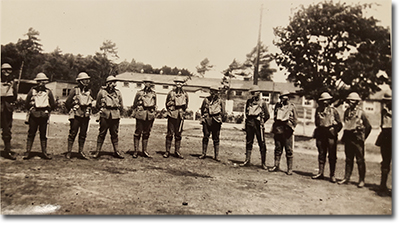 Search Tip: Search "Daniel Sayre Mackay" in Keystone to find these records.
Feedback
E-mail us at archiveswebmaster@gov.mb.ca with a comment about this blog post. Your comments may be included on this page.

23 April 2018
Back at Vimy Ridge, one year later
We have featured George Hambley, a Manitoban soldier who kept a diary throughout the war, several times in our blog. In our 23 March 2017 and 11 April 2017 blog posts we featured Hambley's diary entries about his experiences at the Battle at Vimy Ridge in 1917.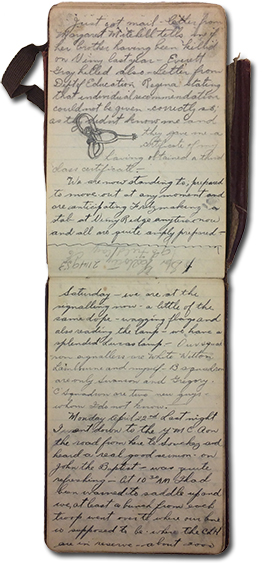 In these April 1918 entries, he writes about his work, his location and his fellow soldiers:
We are now standing to; prepared to move out at any moment and are anticipating Fritz making a stab at Vimy Ridge anytime now and are quite amply prepared.-

Saturday – we are at the signalling now – a little of the same dope – wagging flags and also reading the lamp – we have a splendid Lucas lamp. – Our squadron signallers are White Wetton Lainbourne and myself. – B squadron are only Swanson and Gregory. "C" Squadron are two new guys whom I do not know.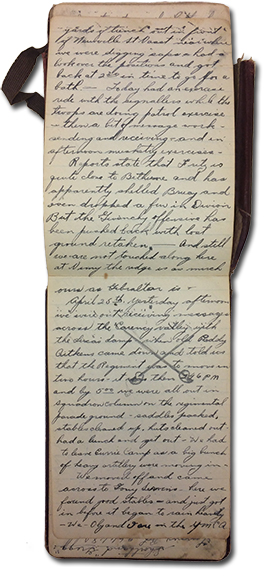 In an entry from Monday 22 April, he writes about his free time and then provides quite a lot of detail about locations and enemy action:
Monday April 22nd. Last night I went down to the Y. M. C. A. on the road from here to Souchez and heard a real good sermon – on John the Baptist – was quite refreshing – At 10:30 AM I had been warned to saddle up and we, at least a bunch from each troop went over to where our line is supposed to be – where the CLH are in reserve – about 2000 yards of trench out in front of Neville St. Vaast near where we were digging saps – had a look over the positions and got back at 2:30 in time to go for a bath…

Reports state that Fritz is quite close to Bethune and has apparently shelled Bruay and even dropped a few in Divion. But [t]he Givenchy offensive has been pushed back with lost ground retaken. – And still we are not touched along here at Vimy the ridge is as much our as Gibraltar is.-
Hambley's diaries provide fascinating insights into the experiences of one Manitoban during the First World War. Hambley returned to Canada after the war and continued to write a diary until shortly before he died in February 1983. All of his diaries and other records including photograph albums, home movies and essays are held at the Archives of Manitoba in the George Henry Hambley fonds.
Search Tip: Search "George Hambley" in Keystone for more information.
Feedback
E-mail us at archiveswebmaster@gov.mb.ca with a comment about this blog post. Your comments may be included on this page.

16 April 2018
Lieutenant John Boswell of the Winnipeg Rifles gets married during his leave
Clarence Montague Boswell (1876-1965) was working as a lawyer in Souris, Manitoba when the First World War began. He was 40 years old and his younger brother, John Musgrave Boswell (1897-1951) was 19 when they both sailed with the 90th Battalion to England in May 1915.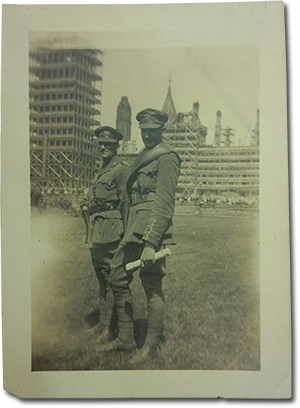 The Boswell brothers were posted near enough to one another in France that they could visit each other occasionally. They met up for lunch in April 1918 and Clarence learned some surprising news from his brother, which he relayed to their mother in a letter he wrote the next day: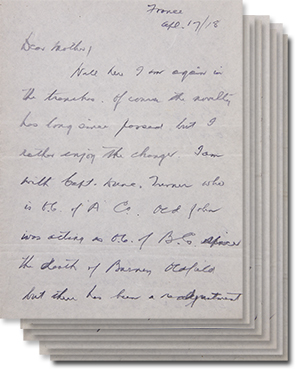 France



Apr. 17/18



Dear Mother,



Well here I am again in the trenches. Of course the novelty has long since passed but I rather enjoy the change. I am with Capt. ? Turner who is O. C. Of 'A' Co. Old John was acting as O. C. of B. Co. since the death of Barney Oldfield but there has been a readjustment and Major Fiske (a fine fellow) has command with John next. I had lunch with John yesterday and afterwards we were lucky to get away for two hours when we walked two miles back and had a bath.



It was only yesterday that John told me that he had married Grace Ballard when he was on leave in October last. It was a tremendous surprise to me and even now I can hardly realize it. I will certainly call on Mrs. John when I next get leave. Until then we can only hope for the best. She is only a year older than the boy and from her photo I judge her to be very pretty. John says her dad was a Surgeon in the British Army and that Grace was educated in England and Germany. Her mother is French and lives in Paris. She married again on the death of Grace's father and Grace took up the movie picture actress game. She has an allowance from her father's estate through her mother. John says she had three brothers one in the French army and two in the British and all of whom have been killed. Grace's father apparently is well connected and his people are very kind to her.



I told John to at once inform the Col. Whose permission he should have secured and then with his permission or sanction he will be able to get the separation allowance for the Mrs. However she seems to be quite independent in money matters apparently having a fair income. She sends John lovely parcels and has again and again declined the cash cheques of John's fellow officers ? which they sent to her through John for various purchases. The kid says that after the war (D. V.)? he will return to Canada + later have Mrs. B come out. They were married at a Registry Office.



If the little girl turns out OK I think it is perhaps not to be regretted particularly if this war is to run on indefinitely. So many young devils just turn loose when on leave – not that John has any wild inclinations – that I think that he will be lucky to be settle down.



I have seen Grace's letter and from them I consider her to be a lady like girl.



I am hoping that everything is lovely and that there need be regrets for no one so in the meantime don't you worry about it.



I think that I will write to my new sister in law and get into correspondence so that I may know her in that way.



Love to all


Your loving son

Clarie
Both of the Boswells survived the war. Clarence Boswell established a law practice in Winnipeg, specializing in estate work. He married Berthe Coupal in 1921. John and Grace Boswell also came to Canada following the war, eventually settling in northwestern Ontario.
Search Tip: Search "Boswell" in Keystone to find out more about Boswell and his First World War letters.
Feedback
E-mail us at archiveswebmaster@gov.mb.ca with a comment about this blog post. Your comments may be included on this page.

9 April 2018
Frank Edmund Heath: Another Fur Trader Goes to War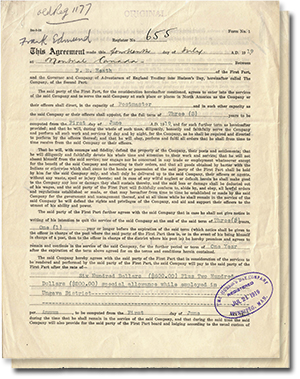 Our March 19 blog featured the story of Cecil Bradbury who, during the war years, delayed signing a contract with Hudson's Bay Company (HBC) until after serving overseas. There were other HBC employees who were already working at HBC's fur trade posts, and interrupted their careers to enlist. Frank Edmund Heath was one of these men.
Heath was born in Surrey, England in 1882. In 1911, he became a clerk at the Mud Lake Outpost in Labrador on a temporary contract. He worked in this capacity until 1915, at which time he enlisted for active service.
In 1919, Heath resumed his career with HBC, signing a contract to work as a postmaster, also known as a post manager.
Between 1919 and 1934, he worked at fur trade posts in Labrador and the Arctic, including Fort Chimo, North West River, Pangnirtung, Nain, and Fort Hearne. On October 31, 1934, Heath retired from HBC and returned to England, where HBC assisted him in finding a career in mink ranching.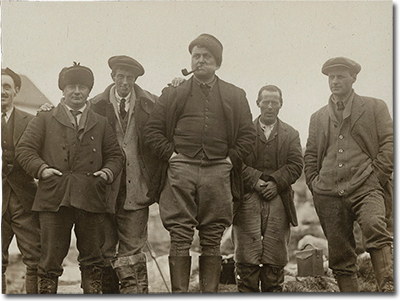 The Hudson's Bay Company Archives has a number of records that document the careers of HBC employees, such as servants' contracts, personnel dossiers, records of service, and others. To make your search for information about specific HBC employees easier, our website includes tools such as Biographical Sheets and Name Indexes. These tools contain information taken directly from archival records in our holdings.
Frank Edmund Heath's employment with HBC has been summarized on a Biographical Sheet (PDF). You can search the Biographical Sheets, as well as the Name Indexes, to find information about your ancestors who worked for HBC.
Search Tip: Search HBCA Biographical Sheets and Name Indexes to find information on HBC employees.
Feedback
E-mail us at archiveswebmaster@gov.mb.ca with a comment about this blog post. Your comments may be included on this page.

2 April 2018
Troop Movements, Battles, and the Flu: War Diaries at the Archives of Manitoba
During the First World War, several military units kept war diaries. These records differed from personal diaries as they logged the daily operations of an entire unit rather than the experiences of an individual soldier. At the end of each month, the diaries were sent back to headquarters where they were kept to track a unit's activities. These diaries were often extremely detailed and recorded troop movements, positions, sickness, casualties, and other events. As a result, they were considered highly secret intelligence documents.
At the Archives of Manitoba, we have two such diaries; one from the First Cavalry Machine Gun Squadron and another from the Second Canadian Motor Machine Gun Brigade.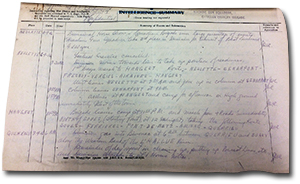 Troop movements were meticulously detailed in the diaries as this September 6, 1916 entry from the First Cavalry Machine Gun Squadron war diary demonstrates:
Tactical exercise cancelled.
7:30 am: Division moves towards line to take up position of readiness.
1st days march to HANGEST. Route – NESLETTE – SENARPONT – FRESNOY – VERGIES – AIRAINES – HANGEST.
Unit leaves NESLETTE at 7:30 am and join up in column at SENARPONT.
1:00 pm: [column] arrives at HANGEST and camp for attention on high ground immediately west of the town.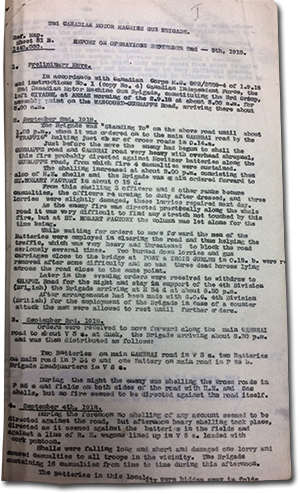 Training exercises were also documented in significant detail. On days where major combat engagements occurred, officers sometimes added full reports to the diaries.
From September 2nd to September 5th, 1918, the Second Canadian Motor Machine Gun Brigade participated in offensive operations during the Hundred Days Offensive. After the battle, a detailed report was created and placed in the war diary. It notes what the Brigade did on each day, how many casualties were sustained, and what types of enemy resistance was encountered.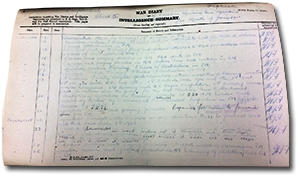 In addition to troop movements and reports, absences such as casualties and illnesses were also noted in the diaries. In the June 23, 1918 entry of the First Cavalry Machine Gun Squadron war diary, it is noted that "large number of N.C.O.s and men taken with a form of influenza." This is one of several mentions of soldiers succumbing to the flu. In 1918, a large scale influenza outbreak, commonly know as the Spanish Flu, began spreading across the globe. By 1920, it had killed millions of people.
Search Tip: Search "Machine Gun Squadron War Diaries" in Keystone to find the description.
Feedback
E-mail us at archiveswebmaster@gov.mb.ca with a comment about this blog post. Your comments may be included on this page.