Archives of Manitoba
Spotlight: HBCA in words and images
John Rae: Legacy of an Arctic Explorer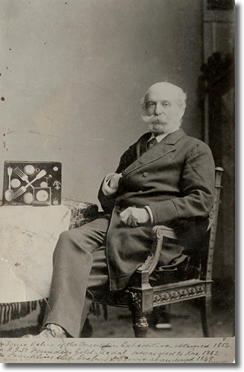 John Rae(1813-1893), native of Orkney, surgeon and Hudson's Bay Company employee, was also an accomplished explorer who travelled thousands of miles and charted nearly 1800 miles of Arctic coastline over the course of four expeditions between 1846 and 1854.
The background map records his 1851 explorations which significantly added to the geographical knowledge of the time. He is also known for first reporting the fate of Sir John Franklin's lost expedition which had set out in 1845 to navigate the North West passage, confirming that Franklin and his crew had perished.
These aspects of his career are represented in a photographic portrait of Rae, taken in London in 1889. The photo is captioned and signed by him
In the spring of 1854, while on an HBC Arctic surveying expedition, Rae met Inuit who provided him with information regarding the deaths of Franklin and his men. Rae also acquired "relics" from the Inuit which included silverware engraved with the crests or initials of men on the Franklin expedition, watch cases, badges, coins and other items. Most of these pieces were given to the British Admiralty by the HBC, but Rae was allowed to retain some items in recognition of his services.
Rae is posed here with a case which includes the relics he kept, along with his Royal Geographical Society Founders Gold Medal (in a smaller, separate case), awarded to Rae in 1852 for his discoveries in 1846-47 and 1851.
The map below the case illustrates Rae's Arctic travels and the location where Franklin's ships, the Erebus and Terror, were believed to have been abandoned (the map's detail is not visible in the photograph).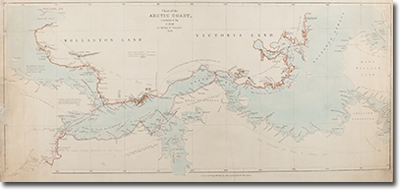 To discover other records in the HBC Archives related to John Rae, including correspondence, maps and photographs, search Keystone.
See past features in: Spotlight Archive