Archives of Manitoba
Spotlight: HBCA in words and images
A new store for an old company
On November 18, 1926, the Hudson's Bay Company's opened a massive new retail store in Winnipeg Manitoba - the latest of 11 stores across Canada. The opening of the store was eagerly anticipated and 50,000 people crowded in on opening day. Eighty years later its doors are still open.
Regular updates were sent from Winnipeg to the Governor and Committee in London between October 1925 and August 1927, reporting on the progress in the construction of the store. The weekly report shown here outlines the progress for the week of June 19th. This report was compiled by the engineers and builders of the store, Carter-Halls Aldinger, and signed off by A.H. Doe, the HBC supervisor of the construction in Winnipeg. The blueprint below accompanied the report and highlighted the progress of various aspects of the construction with different colours and symbols.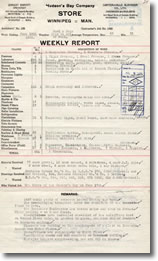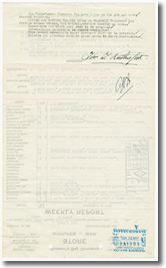 A weekly report for the week of 19 June 1926 sent to the head offices of the
HBC in London from the engineering firm working on the
construction of their new store in Winnipeg.
HBCA A.92/153/14 fo. 24
Blueprints and photographs were often sent with the weekly reports and provide visual documentation of the construction of the store. Clearly visible in the blueprint are the many columns which bisect all six floors and which descend 51 feet below street level.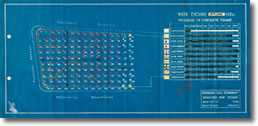 The weekly report and the blueprint are part of a series of inward and outward correspondence created by the Governor and Committee entitled "Governor and Committee general and official correspondence." For more information about these records, or other records of the Governor and Committee, search Keystone.
See past features in: Spotlight Archive