Archives of Manitoba
Spotlight: HBCA in words and images
Wedding present fit for a princess
On 20th November 1947, Princess Elizabeth married Lieutenant Philip Mountbatten in Westminster Abbey. To honour this event, the Hudson's Bay Company gave the princess a beaver coat, which is shown on her here at King's Cross Station as she prepares to board a train to Scotland for her and Philip's honeymoon. Elizabeth was prompt with her thanks, sending this letter to the governor of the HBC, Sir Patrick Ashley Cooper, on 28th November 1947.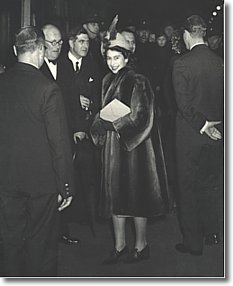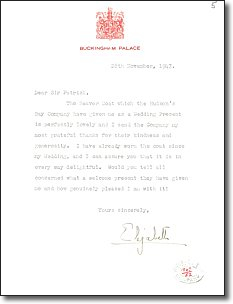 The letter is part of a series of letters belonging to the Governor and Committee, entitled "Correspondence with significant individuals and institutions," that were kept together because of the prominence of the letter-writers. Other significant correspondents included Sir Winston Churchill, William Lyon Mackenzie King and Louis St. Laurent.
For more information about these letters, or other records of the Governor and Committee, search Keystone.
See past features in: Spotlight Archive