Archives of Manitoba
Spotlight: HBCA in words and images
Remnants of the Past: The Hudson's Bay Company and Winnipeg's Urban Landscape
The HBC's influence on the urban development of Winnipeg is documented in part by the plans and drawings of numerous structures it built and occupied in the last two centuries. Some of these structures still stand today, providing a tangible link to the past.
Prior to building the store at Portage and Memorial in 1926, the HBC had constructed its first Winnipeg department store in 1881 at the corner of Main Street and York Avenue, just north of Upper Fort Garry. As retail business grew, the store was renovated and more buildings were added to the site. Blueprint plans by local architect John Woodman show the elevations of two of the outbuildings that surrounded the store.
A central powerhouse was built in 1906 in the middle of the site to supply energy to this growing compound. Constructed of brick with a corrugated iron roof, it featured a 92-foot tall octagonal chimneystack venting five engine-generators and four boilers.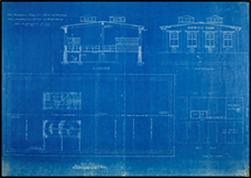 In 1911, Woodman, then of Woodman & Carey Architects, developed plans for a handsome red brick garage on Garry Street, near Broadway. At the time, the HBC was running a busy home delivery service. The garage replaced aging stables and provided maintenance facilities for the HBC's fleet of state-of-the-art delivery vehicles.
Remains of both the HBC powerhouse and garage buildings exist today. It appears that the powerhouse building's shell remains intact on the lane south of Garry Street between Main and Fort Streets. No longer owned by the HBC, the garage has been extensively renovated and currently houses a Keg Steakhouse. The HBC crest is still visible on the building's west façade.
Spotlight by Abigail Auld, a student in the University of Winnipeg's Curatorial Practices MA program who is investigating the HBC's impact on Winnipeg's urban development. Learn more on her project website: WPGxHBC.
Search the Archives' online database, Keystone for more information about these records and others documenting the HBC in Winnipeg.
See past features in: Spotlight Archive