Archives of Manitoba
Hudson's Bay Company Archives – HBC Fur Trade Post Map
Search our fur trade post maps to find the location of a Hudson's Bay Company fur trade post.
Please note that only 494 Hudson's Bay Company fur trade posts appear in these maps because the map is based on the fur trade posts originally included in the Archives' "Section B" records. While this map has limitations, it is helpful as a starting point.
Search by Region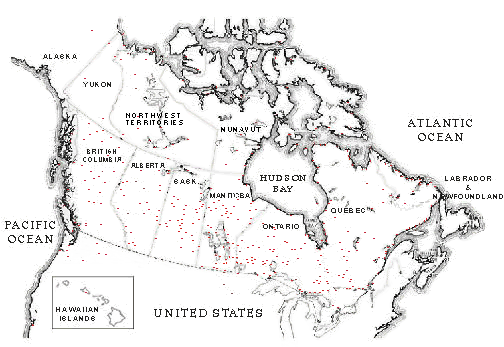 To determine which regional map to look at, search for the fur trade post name or number.
Search by Post Name or Post Number
HBC Fur Trade Posts by Name or Number

| Post Number | Post Name | Region | Map |
| --- | --- | --- | --- |
| Post # | Post Name | Region | Map |
| B.1 | Abitibi (aka Abbitibby, Abitibi House) | Québec | Southern Québec |
| B.241 | Aillik | Newfoundland and Labrador | Labrador |
| B.378 | Aklavik | Northwest Territories | Northwest Territories |
| B.3 | Albany | Ontario | Eastern Ontario |
| B.379 | Allanwater | Ontario | Western Ontario |
| B.380 | Amadjuak | Nunavut | Nunavut |
| B.381 | Arctic Bay | Nunavut | Nunavut |
| B.7 | Ash Falls | Ontario | Western Ontario |
| B.242 | Athabasca Landing | Alberta | Alberta |
| B.243 | Attawapiskat | Ontario | Eastern Ontario |
| B.11 | Babine | British Columbia | Northern British Columbia |
| B.244 | Bad Lake | Manitoba | Southern Manitoba |
| B.245 | Bad Throat Post | Manitoba | Southern Manitoba |
| B.246 | Baie des Pc(res | Québec | Southern Québec |
| B.382 | Baie-Comeau | Québec | Southern Québec |
| B.383 | Baillie Island | Northwest Territories | Northwest Territories |
| B.384 | Baker Lake | Nunavut | Nunavut |
| B.12 | Barkerville | British Columbia | Southern British Columbia |
| B.13 | Batchewana | Ontario | Eastern Ontario |
| B.385 | Bathurst Inlet | Nunavut | Nunavut |
| B.247 | Battle River | Alberta | Alberta |
| B.248 | Battleford | Saskatchewan | Southern Saskatchewan |
| B.249 | Bear Lake (aka Fort Grahame, Findlay River) | British Columbia | Northern British Columbia |
| B.386 | Bearskin Lake | Ontario | Western Ontario |
| B.387 | Beauval | Saskatchewan | Northern Saskatchewan |
| B.250 | Beaver Lake House | Ontario | Western Ontario |
| B.371 | Beaver Lake Portage | Saskatchewan | Southern Saskatchewan |
| B.14 | Bedford House | Saskatchewan | Northern Saskatchewan |
| B.388 | Belcher Islands | Nunavut | Nunavut |
| B.15 | Belle Vue Sheep Farm (San Juan) (WA) | United States | Northwest United States |
| B.16 | Berens River | Manitoba | Central Manitoba |
| B.389 | Bernard Harbour (aka Fort Thompson) | Nunavut | Nunavut |
| B.17 | Bersimis (Pointe-des-Bersimites) | Québec | Southern Québec |
| B.390 | Big Beaver House | Ontario | Western Ontario |
| B.18 | Big Fall | Manitoba | Central Manitoba |
| B.19 | Big Lake | Québec | Southern Québec |
| B.251 | Big Stone River | Saskatchewan | Northern Saskatchewan |
| B.252 | Biscotasing | Ontario | Eastern Ontario |
| B.253 | Black River | British Columbia | Northern British Columbia |
| B.392 | Blacklead Island | Nunavut | Nunavut |
| B.393 | Blanc-Sablon | Québec | Northern Québec |
| B.254 | Blood River | Manitoba | Central Manitoba |
| B.20 | Bolsover House | Saskatchewan | Southern Saskatchewan |
| B.21 | Bow Fort (a.k.a. Piegan Post) | Alberta | Alberta |
| B.22 | Brandon House | Manitoba | Southern Manitoba |
| B.23 | Brunswick House (aka Wapiscogamy) | Ontario | Eastern Ontario |
| B.395 | Bucke | Ontario | Western Ontario |
| B.25 | Buckingham | Québec | Southern Québec |
| B.24 | Buckingham House | Alberta | Alberta |
| B.255 | Buffalo River | Saskatchewan | Northern Saskatchewan |
| B.256 | Calgary | Alberta | Alberta |
| B.396 | Cambridge Bay | Nunavut | Nunavut |
| B.274 | Cancelled | Cancelled | Not on map |
| B.391 | Cancelled | Cancelled | Not on map |
| B.459 | Cancelled | Cancelled | Not on map |
| B.471 | Cancelled | Cancelled | Not on map |
| B.477 | Cancelled | Cancelled | Not on map |
| B.494 | Cancelled | Cancelled | Not on map |
| B.495 | Cancelled | Cancelled | Not on map |
| B.257 | Candle Lake | Saskatchewan | Southern Saskatchewan |
| B.258 | Canoe Lake | Saskatchewan | Northern Saskatchewan |
| B.397 | Cape Dorset | Nunavut | Nunavut |
| B.398 | Cape Smith | Québec | Northern Québec |
| B.26 | Cappoonicagomie | Ontario | Eastern Ontario (Not on map) |
| B.399 | Caribou | Manitoba | Northern Manitoba (Not on map) |
| B.28 | Carlton House (Assiniboine River) | Saskatchewan | Southern Saskatchewan |
| B.27 | Carlton House (Saskatchewan River) | Saskatchewan | Southern Saskatchewan |
| B.29 | Carlton House (Three Points) | Manitoba | Northern Manitoba |
| B.259 | Cartwright | Newfoundland and Labrador | Labrador |
| B.30 | Cat Lake | Ontario | Western Ontario |
| B.400 | Cavell | Ontario | Western Ontario |
| B.31 | Cawassieamica | Québec | Southern Québec |
| B.260 | Cedar Lake | Manitoba | Central Manitoba |
| B.261 | Chapleau | Ontario | Eastern Ontario |
| B.262 | Charlton Island Depot | Nunavut | Nunavut |
| B.32 | Chatham House | Manitoba | Northern Manitoba |
| B.33 | Chats | Québec | Southern Québec |
| B.34 | Chesterfield House | Saskatchewan | Southern Saskatchewan |
| B.401 | Chesterfield Inlet | Nunavut | Nunavut |
| B.402 | Chibougamau | Québec | Southern Québec |
| B.35 | Chickney | Ontario | Eastern Ontario |
| B.36 | Chicoutimi | Québec | Southern Québec |
| B.37 | Chilcotin | British Columbia | Southern British Columbia |
| B.40 | Chipewyan Lake | Manitoba | Northern Manitoba |
| B.41 | Chiswick House | Northwest Territories | Northwest Territories |
| B.263 | Clear Lake | Saskatchewan | Northern Saskatchewan |
| B.403 | Clyde River | Nunavut | Nunavut |
| B.404 | Coats Island | Nunavut | Nunavut |
| B.264 | Cold Lake | Alberta | Alberta |
| B.43 | Cold Lake (English River) | Manitoba | Northern Manitoba |
| B.405 | Collinson, Fort | Northwest Territories | Northwest Territories |
| B.44 | Colvile House | Alberta | Alberta |
| B.265 | Colvile Landing | Manitoba | Southern Manitoba |
| B.266 | Coocoocache | Québec | Southern Québec |
| B.47 | Cowlitz Farm (WA) | United States | Northwest United States |
| B.267 | Cree Lake | Saskatchewan | Northern Saskatchewan |
| B.268 | Cross Lake (aka Aplsey House) | Manitoba | Central Manitoba |
| B.269 | Cross Portage | Manitoba | Northern Manitoba |
| B.48 | Cul-de-Sac | Newfoundland and Labrador | Labrador |
| B.49 | Cumberland House | Saskatchewan | Southern Saskatchewan |
| B.50 | Dalles | Ontario | Western Ontario |
| B.52 | Davis Inlet | Newfoundland and Labrador | Labrador |
| B.270 | Dease Lake (Laketon) | British Columbia | Northern British Columbia |
| B.473 | Deer Lake | Ontario | Western Ontario |
| B.271 | Deloraine | Manitoba | Southern Manitoba |
| B.272 | Desert | Québec | Southern Québec |
| B.406 | Diana Bay | Québec | Northern Québec |
| B.273 | Dinorwic | Ontario | Western Ontario |
| B.275 | Dog Head | Manitoba | Central Manitoba |
| B.53 | Doubtful Post (aka Manitoba House) | Manitoba | Southern Manitoba |
| B.54 | Duck Lake | Ontario | Western Ontario |
| B.276 | Duck Lake (Saskatchewan) | Saskatchewan | Southern Saskatchewan |
| B.55 | Duck Portage | Manitoba | Northern Manitoba |
| B.407 | Dundas Harbour | Nunavut | Nunavut |
| B.56 | Dunvegan | Alberta | Alberta |
| B.57 | Eagle Lake | Ontario | Western Ontario |
| B.277 | Eagle Lake (Albany River) | Ontario | Western Ontario |
| B.58 | Eagle Nest | Manitoba | Southern Manitoba |
| B.59 | Eastmain | Québec | Northern Québec |
| B.60 | Edmonton | Alberta | Alberta |
| B.61 | Egg Lake (Churchill River) | Saskatchewan | Northern Saskatchewan |
| B.62 | Egg Lake (Swan River) | Saskatchewan | Southern Saskatchewan |
| B.375 | English River | Ontario | Eastern Ontario |
| B.64 | Escabitchewan | Ontario | Western Ontario |
| B.408 | Eskimo Point | Nunavut | Nunavut |
| B.65 | Esquimalt | British Columbia | Southern British Columbia |
| B.409 | Factory River | Québec | Northern Québec |
| B.278 | Fairford | Manitoba | Central Manitoba |
| B.66 | Fairford House | Saskatchewan | Northern Saskatchewan |
| B.67 | Finlay River | British Columbia | Northern British Columbia |
| B.279 | Fisher River | Manitoba | Southern Manitoba |
| B.68 | Flamborough House | Manitoba | Northern Manitoba |
| B.69 | Flathead (MT) | United States | Northwest United States |
| B.71 | Fly Lake | Ontario | Western Ontario |
| B.70 | Flying Post | Ontario | Eastern Ontario |
| B.72 | Fond du Lac | Saskatchewan | Northern Saskatchewan |
| B.2 | Fort a- La Corne | Saskatchewan | Southern Saskatchewan |
| B.4 | Fort Alexander | Manitoba | Southern Manitoba (Not on map) |
| B.5 | Fort Alexandria | British Columbia | Southern British Columbia |
| B.6 | Fort Anderson | Northwest Territories | Northwest Territories |
| B.8 | Fort Assiniboine | Alberta | Alberta |
| B.394 | Fort Brabant | Northwest Territories | Northwest Territories |
| B.38 | Fort Chimo (aka Fort Good Hope, Kuujjuaq) | Québec | Northern Québec |
| B.39 | Fort Chipewyan | Alberta | Alberta |
| B.42 | Fort Churchill (aka Fort Prince of Wales) | Manitoba | Northern Manitoba |
| B.45 | Fort Colvile (WA) | United States | Northwest United States |
| B.46 | Fort Coulonge | Québec | Southern Québec |
| B.51 | Fort Dauphin | Manitoba | Southern Manitoba |
| B.63 | Fort Ellice | Manitoba | Southern Manitoba |
| B.77 | Fort George (aka Big River, Great River, Shayseppy, Keeshay) | Québec | Northern Québec |
| B.76 | Fort George (Columbia River) (WA) | United States | Northwest United States |
| B.280 | Fort George (New Caledonia) | British Columbia | Northern British Columbia |
| B.80 | Fort Good Hope (aka Fort Charles) | Northwest Territories | Northwest Territories |
| B.85 | Fort Halkett | British Columbia | Northern British Columbia |
| B.417 | Fort Hearne | Nunavut | Nunavut |
| B.418 | Fort Hebron | Newfoundland and Labrador | Labrador |
| B.291 | Fort Hope | Ontario | Western Ontario |
| B.292 | Fort Hope (Victoria) | British Columbia | Southern British Columbia |
| B.112 | Fort Lampson | Newfoundland and Labrador | Labrador |
| B.113 | Fort Langley | British Columbia | Southern British Columbia |
| B.116 | Fort Liard | Northwest Territories | Northwest Territories |
| B.306 | Fort MacLeod | Alberta | Alberta |
| B.305 | Fort McKay | Alberta | Alberta |
| B.436 | Fort McKenzie | Québec | Northern Québec |
| B.120 | Fort McLoughlin | British Columbia | Southern British Columbia |
| B.307 | Fort McMurray | Alberta | Alberta |
| B.139 | Fort Nascopie | Newfoundland and Labrador | Labrador |
| B.320 | Fort Nelson | British Columbia | Northern British Columbia |
| B.146 | Fort Nez Perces (WA) | United States | Northwest United States |
| B.152 | Fort Norman | Northwest Territories | Northwest Territories |
| B.159 | Fort Pelly | Saskatchewan | Southern Saskatchewan |
| B.165 | Fort Pitt | Saskatchewan | Southern Saskatchewan |
| B.333 | Fort Providence | Northwest Territories | Northwest Territories |
| B.334 | Fort Qu'Appelle | Saskatchewan | Southern Saskatchewan |
| B.172 | Fort Rae | Northwest Territories | Northwest Territories |
| B.180 | Fort Reliance | Northwest Territories | Northwest Territories |
| B.181 | Fort Resolution | Northwest Territories | Northwest Territories |
| B.182 | Fort Richmond | Québec | Northern Québec |
| B.474 | Fort Ross | Nunavut | Nunavut |
| B.185 | Fort Rupert | British Columbia | Southern British Columbia |
| B.195 | Fort Seaborn (aka Nelson River House, Nelson House) | Manitoba | Northern Manitoba |
| B.200 | Fort Simpson | Northwest Territories | Northwest Territories |
| B.201 | Fort Simpson (Nass) | British Columbia | Northern British Columbia |
| B.348 | Fort Smith | Alberta | Alberta (Not on map) |
| B.348 | Fort Smith | Northwest Territories | Northwest Territories |
| B.188 | Fort St. James | British Columbia | Northern British Columbia |
| B.189 | Fort St. John | British Columbia | Northern British Columbia |
| B.190 | Fort St. Mary | Alberta | Alberta |
| B.219 | Fort Trial (George River) | Québec | Northern Québec |
| B.374 | Fort Trial (Labrador Coast) | Newfoundland and Labrador | Labrador |
| B.223 | Fort Vancouver (WA) | United States | Northwest United States |
| B.224 | Fort Vermilion (Peace River) | Alberta | Alberta |
| B.225 | Fort Vermilion (Saskatchewan River) | Alberta | Alberta |
| B.226 | Fort Victoria | British Columbia | Southern British Columbia |
| B.232 | Fort William (aka Red River House, Red River) | Manitoba | Southern Manitoba |
| B.370 | Fort Wrigley | Northwest Territories | Northwest Territories |
| B.240 | Fort Yukon (AK) | United States | Alaska |
| B.73 | Frances Lake | Yukon Territory | Yukon Territory |
| B.74 | Fraser Lake | British Columbia | Northern British Columbia |
| B.75 | Frederick House | Ontario | Eastern Ontario |
| B.410 | Frenchman's Island | Newfoundland and Labrador | Labrador |
| B.411 | Frobisher Bay | Nunavut | Nunavut |
| B.281 | Georges River | Québec | Northern Québec |
| B.412 | Ghost River | Ontario | Eastern Ontario |
| B.413 | Gillam | Manitoba | Northern Manitoba |
| B.414 | Gisipigimack | Manitoba | Northern Manitoba |
| B.282 | Glenora | British Columbia | Northern British Columbia |
| B.78 | Gloucester House | Ontario | Western Ontario |
| B.79 | Godbout (aka Goodbot, Goudbou) | Québec | Southern Québec |
| B.283 | God's Lake | Manitoba | Northern Manitoba |
| B.415 | Gogama | Ontario | Eastern Ontario |
| B.81 | Gordon House | Manitoba | Northern Manitoba |
| B.479 | Grady Harbour | Newfoundland and Labrador | Labrador |
| B.284 | Grand Forks (ND) | United States | North Dakota |
| B.285 | Grand Rapids | Manitoba | Central Manitoba |
| B.286 | Grande Prairie | Alberta | Alberta |
| B.82 | Grand-Lac (aka Grand Lake Victoria, Grand Lake) | Québec | Southern Québec |
| B.83 | Granville House | Manitoba | Northern Manitoba |
| B.287 | Grassy Narrows | Manitoba | Southern Manitoba |
| B.498 | Grassy Narrows | Ontario | Western Ontario |
| B.372 | Great Whale River | Québec | Northern Québec |
| B.84 | Green Lake (English River) | Saskatchewan | Southern Saskatchewan |
| B.288 | Green Lake (Lake Huron) | Ontario | Eastern Ontario |
| B.289 | Hay River | Northwest Territories | Northwest Territories |
| B.290 | Hazelton | British Columbia | Northern British Columbia |
| B.86 | Henley House | Ontario | Eastern Ontario |
| B.419 | Herschel Island | Yukon Territory | Yukon Territory |
| B.420 | Hopedale | Newfoundland and Labrador | Labrador |
| B.421 | Hudson | Ontario | Western Ontario |
| B.293 | Hudson Hope | British Columbia | Northern British Columbia |
| B.87 | Hudson House | Saskatchewan | Southern Saskatchewan |
| B.88 | Hulse House | Manitoba | Northern Manitoba |
| B.294 | Hungry Hall | Ontario | Western Ontario |
| B.422 | Igloolik | Nunavut | Nunavut |
| B.89 | Île-a--la-Crosse | Saskatchewan | Northern Saskatchewan |
| B.90 | Île-Jeremie (aka Isle de Jeremie, Jeremie's Post) | Québec | Southern Québec |
| B.91 | Indian Lake | Manitoba | Northern Manitoba |
| B.444 | Island Falls | Saskatchewan | Northern Saskatchewan |
| B.423 | Island Falls (Superior/Huron) | Ontario | Eastern Ontario |
| B.92 | Island House | Alberta | Alberta |
| B.93 | Island Lake | Manitoba | Central Manitoba |
| B.94 | Jasper House | Alberta | Alberta |
| B.424 | Kagainagami | Ontario | Western Ontario |
| B.95 | Kaipokok | Newfoundland and Labrador | Labrador (Not on map) |
| B.96 | Kakabonga (aka Barric(re)) | Québec | South Québec (Not on map) |
| B.97 | Kamloops | British Columbia | Southern British Columbia |
| B.496 | Kanaaupscow | Québec | Northern Québec |
| B.98 | Kaniapiskau | Québec | Northern Québec |
| B.425 | Kapisko | Ontario | Eastern Ontario |
| B.295 | Keewatin | Ontario | Western Ontario |
| B.99 | Kenogamissi | Ontario | Eastern Ontario |
| B.426 | Kent Peninsula (Western Arctic) | Nunavut | Nunavut |
| B.100 | Kickendatch (aka Kakandotch) | Québec | Southern Québec |
| B.427 | King William Island | Nunavut | Nunavut |
| B.428 | Kittegazuit | Northwest Territories | Northwest Territories |
| B.101 | Knee Lake | Manitoba | Northern Manitoba |
| B.429 | Kugaryuak | Nunavut | Nunavut |
| B.109 | La Cloche | Ontario | Eastern Ontario |
| B.483 | La Loutre | Québec | Southern Québec |
| B.114 | La Pierre's House | Yukon Territory | Yukon Territory |
| B.432 | La Sarre | Québec | Southern Québec |
| B.102 | Lac des Allumettes (aka Fort William) | Québec | Southern Québec |
| B.103 | Lac du Bonnet | Manitoba | Southern Manitoba |
| B.296 | Lac du Brochet | Manitoba | Northern Manitoba |
| B.104 | Lac La Biche | Alberta | Alberta |
| B.105 | Lac La Pluie | Ontario | Western Ontario |
| B.106 | Lac La Ronge | Saskatchewan | Northern Saskatchewan |
| B.107 | Lac Seul | Ontario | Western Ontario |
| B.297 | Lac Ste. Anne | Alberta | Alberta |
| B.108 | Lac Travers (SD) | United States | South Dakota |
| B.298 | Lake Assiniboine | Saskatchewan | Southern Saskatchewan |
| B.9 | Lake Athabasca | Alberta | Alberta |
| B.10 | Lake Attawapiskat | Ontario | Western Ontario |
| B.430 | Lake Harbour | Nunavut | Nunavut |
| B.110 | Lake of Two Mountains (aka Lac des Deux Montagnes) | Québec | Southern Québec |
| B.111 | Lake St. John | Québec | Southern Québec |
| B.431 | Lansdowne House | Ontario | Western Ontario |
| B.433 | Leaf River | Québec | Northern Québec |
| B.115 | Lesser Slave Lake | Alberta | Alberta |
| B.502 | Lethbridge | Alberta | Alberta |
| B.435 | Letty Harbour | Northwest Territories | Northwest Territories |
| B.299 | Liard | British Columbia | Northern British Columbia |
| B.300 | Lindsay | Ontario | Eastern Ontario |
| B.301 | Little Bear Lake | British Columbia | Northern British Columbia |
| B.373 | Little Whale River | Québec | Northern Québec |
| B.117 | Long Lake | Ontario | Western Ontario |
| B.302 | Long Portage | Ontario | Eastern Ontario |
| B.118 | Loon River | Manitoba | Northern Manitoba |
| B.303 | Lower Fort Garry | Manitoba | Southern Manitoba |
| B.437 | Makkovik | Newfoundland and Labrador | Labrador |
| B.121 | Manchester House | Saskatchewan | Southern Saskatchewan |
| B.122 | Manitoba Lake House | Manitoba | Southern Manitoba |
| B.308 | Manitou | Manitoba | Southern Manitoba |
| B.438 | Mansel Island | Nunavut | Nunavut |
| B.309 | Manuan (Manowan) | Québec | Southern Québec |
| B.123 | Martin Fall | Ontario | Western Ontario |
| B.310 | Massett | British Columbia | Northern British Columbia |
| B.311 | Matachewan | Ontario | Eastern Ontario |
| B.124 | Matawagamingue (aka Mattagami, See Matawagamingue and Michipicoten) | Ontario | Eastern Ontario |
| B.312 | Mattawa | Ontario | Eastern Ontario |
| B.439 | Mattice | Ontario | Eastern Ontario |
| B.304 | McDame Creek | British Columbia | Northern British Columbia |
| B.119 | McLeod Lake | British Columbia | Northern British Columbia |
| B.125 | Merry's House | Ontario | East Ontario(Not on map) |
| B.126 | Mesackamy Lake | Ontario | Eastern Ontario |
| B.127 | Mesaugamee Lake | Ontario | Eastern Ontario |
| B.128 | Michikamau House | Newfoundland and Labrador | Labrador |
| B.129 | Michipicoten | Ontario | Eastern Ontario |
| B.130 | Migiskan (aka Metchiskun, Michiskum Post) | Québec | Southern Québec |
| B.131 | Miminiska Lake | Ontario | Western Ontario |
| B.440 | Minaki | Ontario | Western Ontario |
| B.132 | Mingan (aka Mingan Seigniory) | Québec | Southern Québec |
| B.497 | Mingan Fur Farm | Québec | Southern Québec |
| B.313 | Missanabie | Ontario | Eastern Ontario |
| B.314 | Missinaibi | Ontario | Eastern Ontario |
| B.315 | Mississagi | Ontario | Eastern Ontario |
| B.133 | Mistassinni (aka Maison des Dorvals, Chebmonkoue) | Québec | Southern Québec |
| B.316 | Montizambert | Ontario | Western Ontario |
| B.134 | Montréal | Québec | Southern Québec |
| B.317 | Montreal Lake | Saskatchewan | Southern Saskatchewan |
| B.135 | Moose Factory | Ontario | Eastern Ontario |
| B.318 | Moose Lake | Manitoba | Central Manitoba |
| B.441 | Moosonee | Ontario | Eastern Ontario |
| B.319 | Morden | Manitoba | Southern Manitoba |
| B.136 | Muskwaro | Québec | Southern Québec |
| B.442 | Mutton Bay | Québec | Northern Québec |
| B.137 | Nabisipi | Québec | Southern Québec |
| B.138 | Nachvak | Newfoundland and Labrador | Labrador |
| B.443 | Nain | Newfoundland and Labrador | Labrador |
| B.140 | Natashkwan (aka Natashquan, Nontascouanne) | Québec | Southern Québec |
| B.141 | Nelson House | Manitoba | Northern Manitoba |
| B.142 | Nemiskau (aka Nemiska) | Québec | Northern Québec |
| B.143 | Neoskweskau | Québec | Northern Québec |
| B.144 | Nescutia (aka Nescotia, Nishkotea) | Québec | Southern Québec |
| B.145 | New Brunswick House | Ontario | Eastern Ontario |
| B.321 | New Post | Ontario | Eastern Ontario |
| B.147 | Nichikum | Québec | Northern Québec |
| B.148 | Nipawin | Saskatchewan | Southern Saskatchewan |
| B.149 | Nipigon House | Ontario | Western Ontario |
| B.150 | Nipissing Lake | Ontario | Eastern Ontario |
| B.151 | Nisqually (WA) | United States | Northwest United States |
| B.445 | Nonala | Manitoba | Northern Manitoba |
| B.153 | North West River | Newfoundland and Labrador | Labrador |
| B.154 | Norway House | Manitoba | Central Manitoba |
| B.447 | Nueltin House | Nunavut | Nunavut |
| B.448 | Nutak | Newfoundland and Labrador | Labrador |
| B.322 | Oak Point | Manitoba | Southern Manitoba |
| B.449 | Obijuan | Québec | Southern Québec |
| B.450 | Ogoki | Ontario | Western Ontario |
| B.451 | Okak | Newfoundland and Labrador | Labrador |
| B.323 | Onion Lake | Saskatchewan | Southern Saskatchewan |
| B.501 | Orillia | Ontario | Eastern Ontario |
| B.452 | Oskelaneo | Québec | Southern Québec |
| B.155 | Osnaburgh House | Ontario | Western Ontario |
| B.156 | Oxford House | Manitoba | Northern Manitoba |
| B.453 | Padley | Nunavut | Nunavut |
| B.454 | Pagwa River | Ontario | Western Ontario |
| B.455 | Pangnirtung | Nunavut | Nunavut |
| B.456 | Pangnirtung Fox Farm | Nunavut | Nunavut |
| B.457 | Pas Mountain | Saskatchewan | Southern Saskatchewan |
| B.324 | Pas Post (Fort Defiance) | Manitoba | Central Manitoba |
| B.458 | Payne Bay | Québec | Northern Québec |
| B.325 | Peace River Crossing | Alberta | Alberta |
| B.157 | Peel River (Ft. McPherson) | Northwest Territories | Northwest Territories |
| B.460 | Pekangekum | Ontario | Western Ontario |
| B.158 | Pelican Lake | Saskatchewan | Northern Saskatchewan |
| B.160 | Pembina (ND) | United States | North Dakota |
| B.500 | Peribonka | Québec | Southern Québec |
| B.461 | Perry River | Nunavut | Nunavut |
| B.161 | Petaigan River | Saskatchewan | Southern Saskatchewan |
| B.462 | Peterbell | Ontario | Eastern Ontario |
| B.162 | Pic | Ontario | Western Ontario |
| B.163 | Pike Lake | Québec | Southern Québec |
| B.326 | Pincher Creek | Alberta | Alberta |
| B.327 | Pine Creek | Manitoba | Central Manitoba |
| B.164 | Pine Lake | Ontario | Western Ontario |
| B.328 | Pine Portage | Ontario | Western Ontario |
| B.463 | Pine Ridge | Ontario | Western Ontario |
| B.464 | Pine River | Saskatchewan | Northern Saskatchewan |
| B.329 | Pointe-Bleue | Québec | Southern Québec |
| B.465 | Ponds Inlet | Nunavut | Nunavut |
| B.330 | Poplar Point | Manitoba | Southern Manitoba (Not on map) |
| B.331 | Poplar River | Manitoba | Central Manitoba |
| B.466 | Port Burwell | Nunavut | Nunavut |
| B.467 | Port Harrison | Québec | Northern Québec |
| B.416 | Port Harrison Fox Farm | Québec | Northern Québec |
| B.166 | Portage de l'Île | Manitoba | Southern Manitoba (Not on map) |
| B.167 | Portage La Loche | Saskatchewan | Northern Saskatchewan |
| B.168 | Portage la Prairie | Manitoba | Southern Manitoba |
| B.169 | Portland House | Manitoba | Northern Manitoba |
| B.468 | Povungnituk Bay | Québec | Northern Québec |
| B.332 | Prince Albert | Saskatchewan | Southern Saskatchewan |
| B.469 | Pukatawagan | Manitoba | Northern Manitoba |
| B.170 | Québec | Québec | Southern Québec |
| B.171 | Quesnel | British Columbia | Southern British Columbia |
| B.173 | Rampart House | Yukon Territory | Yukon Territory |
| B.174 | Rapid River | Saskatchewan | Northern Saskatchewan |
| B.175 | Rat Portage | Ontario | Western Ontario |
| B.470 | Read Island | Nunavut | Nunavut |
| B.176 | Red Deer River | Saskatchewan | Southern Saskatchewan |
| B.177 | Red Lake | Ontario | Western Ontario |
| B.335 | Red River | Alberta | Alberta |
| B.336 | Red Rock | Ontario | Western Ontario |
| B.178 | Reed Lake | Manitoba | Central Manitoba |
| B.179 | Reindeer Lake | Saskatchewan | Northern Saskatchewan |
| B.472 | Repulse Bay | Nunavut | Nunavut |
| B.337 | Riding Mountain | Manitoba | Southern Manitoba |
| B.183 | Rigolet | Newfoundland and Labrador | Labrador |
| B.184 | Rocky Mountain House | Alberta | Alberta |
| B.338 | Romaine | Québec | Southern Québec |
| B.339 | Rossville | Manitoba | Central Manitoba |
| B.186 | Rupert House | Québec | Northern Québec |
| B.187 | Rush Lake | Québec | Southern Québec |
| B.341 | San Francisco (CA) | United States | California |
| B.191 | Sandwich Islands (Honolulu) (HI) | United States | Hawaii |
| B.192 | Sandy Lake | Ontario | Western Ontario |
| B.342 | Sandy Lake | Saskatchewan | Northern Saskatchewan |
| B.193 | Sandy Narrows | Ontario | Western Ontario |
| B.194 | Sault Ste. Marie | Ontario | Eastern Ontario |
| B.343 | Savanne | Ontario | Western Ontario |
| B.196 | Selkirk, Fort | Yukon Territory | Yukon Territory |
| B.478 | Senneterre | Québec | Southern Québec |
| B.197 | Setting River | Saskatchewan | Southern Saskatchewan |
| B.344 | Seven Islands | Québec | Southern Québec |
| B.198 | Severn | Ontario | Western Ontario |
| B.199 | Shell River | Manitoba | Southern Manitoba |
| B.345 | Shell River (English River) | Saskatchewan | Southern Saskatchewan |
| B.434 | Shingle Point | Yukon Territory | Yukon Territory |
| B.346 | Shoal Lake | Manitoba | Southern Manitoba |
| B.347 | Shoal River | Manitoba | Central Manitoba |
| B.480 | Sioux Lookout | Ontario | Western Ontario |
| B.202 | Snake Country (ID/OR/MT) | United States | Northwest United States |
| B.203 | Somerset House (aka Tilberry House, Marlborough House, Swan River) | Manitoba | Central Manitoba |
| B.204 | Somerset House (Turtle Creek) | Saskatchewan | Southern Saskatchewan |
| B.349 | Souris River | Saskatchewan | Northern Saskatchewan |
| B.205 | South Branch House | Saskatchewan | Southern Saskatchewan |
| B.482 | South Reindeer Lake | Saskatchewan | Northern Saskatchewan |
| B.206 | South River House | Québec | Northern Québec |
| B.481 | Southampton Island | Nunavut | Nunavut |
| B.350 | Spirit River Ranch | Alberta | Alberta |
| B.207 | Split Lake House | Manitoba | Northern Manitoba |
| B.208 | Spokane (WA) | United States | Northwest United States |
| B.475 | St. Anthony Mines | Ontario | Western Ontario |
| B.340 | St. Augustine | Québec | Northern Québec |
| B.476 | St. John's Agency | Newfoundland and Labrador | Newfoundland |
| B.209 | Stikine (AK) | United States | Alaska |
| B.352 | Stony Creek | British Columbia | Northern British Columbia |
| B.484 | Stupart's Bay | Québec | Northern Québec |
| B.210 | Sturgeon Creek | Saskatchewan | Northern Saskatchewan |
| B.211 | Sturgeon Lake | Ontario | Western Ontario |
| B.353 | Sturgeon Lake (Peace River) | Alberta | Alberta |
| B.354 | Sturgeon River (aka Shamattawa) | Manitoba | Northern Manitoba |
| B.355 | Sudbury | Ontario | Eastern Ontario |
| B.485 | Sugluk East | Québec | Northern Québec |
| B.486 | Sugluk West | Québec | Northern Québec |
| B.212 | Swampy Lake | Manitoba | Northern Manitoba |
| B.213 | Swan River | Manitoba | Central Manitoba |
| B.214 | Tadoussac | Québec | Southern Québec |
| B.487 | Tavane | Nunavut | Nunavut |
| B.488 | Temagami | Ontario | Eastern Ontario |
| B.215 | Temiskamay | Québec | Northern Québec |
| B.356 | Teslin Post | British Columbia | Northern British Columbia |
| B.216 | Three Rivers | Québec | Southern Québec |
| B.217 | Thunder Lake | Manitoba | Central Manitoba |
| B.218 | Timiskaming | Québec | Southern Québec |
| B.357 | Touchwood Hills | Saskatchewan | Southern Saskatchewan |
| B.489 | Tree River | Nunavut | Nunavut |
| B.220 | Trout Lake | Ontario | Western Ontario |
| B.358 | Trout Lake (Peace River) | Alberta | Alberta |
| B.221 | Trout Lake (Timiskaming) | Québec | Southern Québec |
| B.222 | Turtle Lake | Manitoba | Southern Manitoba |
| B.490 | U-Y Outpost | Québec | Northern Québec |
| B.359 | Vancouver | British Columbia | Southern British Columbia |
| B.360 | Victoria | Alberta | Alberta |
| B.491 | Wabowden | Manitoba | Northern Manitoba |
| B.492 | Wager Inlet | Nunavut | Nunavut |
| B.227 | Waswanipi | Québec | North Québec (Not on map) |
| B.361 | Waterhen River | Manitoba | Central Manitoba |
| B.493 | Weenusk | Ontario | Western Ontario |
| B.228 | Wegg's House | Manitoba | Northern Manitoba |
| B.229 | Wepiskow Lake | Manitoba | Northern Manitoba |
| B.362 | West Lynne | Manitoba | Southern Manitoba |
| B.230 | Weymontachingue | Québec | Southern Québec |
| B.499 | Whale River | Québec | Northern Québec |
| B.363 | White Dog | Ontario | Western Ontario |
| B.366 | White River | Ontario | Western Ontario |
| B.364 | Whitefish Lake (Lake Huron) | Ontario | Eastern Ontario |
| B.365 | Whitefish Lake (Peace River) | Alberta | Alberta |
| B.376 | Whitewood | Saskatchewan | Southern Saskatchewan |
| B.231 | William, Fort (and Pt. Meuron) | Ontario | Western Ontario |
| B.233 | Windsor House | Québec | Southern Québec |
| B.234 | Winisk River | Ontario | Western Ontario |
| B.235 | Winnipeg (aka Fort Garry) | Manitoba | Southern Manitoba |
| B.236 | Winnipeg Lake | Manitoba | Southern Manitoba |
| B.367 | Winnipegosis | Manitoba | Central Manitoba |
| B.237 | Winokapau | Newfoundland and Labrador | Labrador |
| B.377 | Wire Lake | Ontario | Western Ontario |
| B.368 | Wolstenholme | Québec | Northern Québec |
| B.369 | Wrangell (AK) | United States | Alaska |
| B.238 | Yale | British Columbia | Southern British Columbia |
| B.239 | York Factory | Manitoba | Northern Manitoba |