Environment and Climate Change

Treaty 1 Territory, traditional lands of the Anishinaabe and Cree, the heart of the Metis homeland.
Duff Roblin Provincial Park commemorates the importance of two Manitoba milestones: the construction of a flood control system for the city of Winnipeg, and the establishment of a provincial system of parks. Both were created with the foresight of one of Manitoba's well-respected premiers, Mr. Duff Roblin (1917-2010), who served as premier from 1958 to 1967.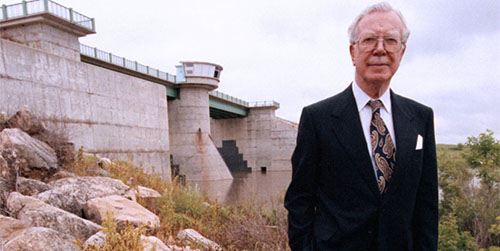 The fully accessible park features a unique steel ramp and viewing platform structure that overlooks the Red River Floodway and the Inlet Control Structure.  Mounted in the centre of the platform is a 40 foot long original piston from the floodway gates.   A plaza next to the steel structure features a 1960s era bulldozer, similar to the type of equipment used to construct the floodway. 
Interpretive panels detail how the floodway works, tell the legacy of Duff Roblin and highlight the provincial park system.  The park also serves as Kilometre 0.0 for the Duff Roblin Parkway Trail, which runs 44 km along the floodway north to Birds Hill Provincial Park and to Lockport.
Duff Roblin Provincial Park was officially opened in the fall of 2020, as Manitoba Parks' signature contribution to Manitoba 150.  Manitobans can be proud of our provincial park system, our flood-proofing expertise and our visionary statesmen Duff Roblin.
Resources






Park Directions
Located on Courchaine Road, on the east side of the Red River Floodway Inlet Control Structure (Floodway Gates).  Access from St. Mary's Road from the east, or Turnbull Drive (off PTH 75) from the west.  View Google Map.
Trails
Additional Resources
Contact Information
Manitoba Parks
Winnipeg Parks District
200 Saulteaux Crescent
Winnipeg, MB   R3J W3
204-945-7273