Environment and Climate Change
Geocaching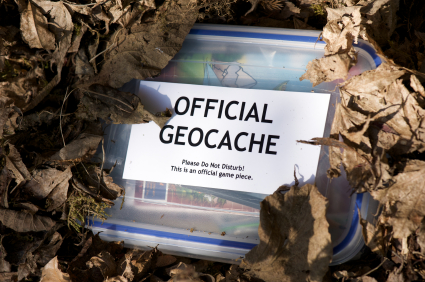 Geocaching is an adventure game using a GPS (global positioning system).  Individuals or organizations set up a "cache" and share the coordinates (called "waypoints") on the internet.  Participants use these GPS coordinates to find the geocache and then share their experiences online. 
A typical geocache is a small waterproof container containing a logbook.  Some containers also hold small trinkets or trade items of little monetary value.  There are almost a million geocaches hidden around the world, including some in Manitoba provincial parks.
Manitoba Provincial Parks welcomes geocachers and has developed guidelines to ensure that caches are located where they will not disturb sensitive park landscapes, private property of other park users. 
How to Find a Geocache
The Manitoba Geocaching Association is Manitoba's gateway to the worldwide adventure sport of geocaching. If you are new to geocaching, you will want to visit their website at https://mb-geocaching.com. for information on how to get started, local geocaching events and the benefits of free membership in the provincial organization.
Official global GPS cache hunt is http://www.geocaching.com/. This site provides information and coordinates for finding and hiding geocaches, and for locating travel bugs and other trackable items through Manitoba and around the world.
How to Hide a Geocache
To hide a geocache in a provincial park, authorization must be obtained from Manitoba Parks and Protected Spaces. Please allow 2 to 4 weeks to review your application.
Here are a few things you should know when geocaching in a provincial park
1. Authorization to place a geocache in a provincial park is required. 
To hide a geocache in a provincial park, authorization must first be obtained from Manitoba Parks and Protected Spaces.  Authorization can be obtained by following the link to the online application form located at the bottom of the page. If your application is approved by Manitoba Parks and Protected Spaces, you may then go to geocaching.com and apply to have the location published on the official Global GPS Cache Hunt Site.
2. Geocaches are permitted only in parks with certain classifications and in certain Land Use Categories (LUCs).
In Natural and Recreation Park classifications, Physical caches are permitted in Backcountry, Recreational Development, Resource Management and Access LUCs.
In Wilderness and Heritage parks, as well as Wilderness or Heritage LUCs within other parks, only caches without a physical container (such as Virtual caches, EarthCaches and Waymarks) will be permitted.
For park classifications and maps of LUC boundaries in provincial parks, please refer to the System Plan for Manitoba's Provincial Parks.  Assistance in identifying LUC boundaries may be obtained from Parks and Protected Spaces staff by calling 1-800-214-6497.
3. Please remember that large sized containers may not be cached in provincial parks, and that containers which previously held food are not suitable for caching.
Containers must be durable, water resistant and no larger than 30cm x 30cm x 15cm in size (micro, small or regular sized containers).  Caches may not contain food or potentially dangerous or illegal goods such as explosives, ammunition, knives weapons, alcohol or drugs.  For more information on geocache containers and contents, please see How to Hide a Geocache at http://mbgeocaching.ca/.
4. Geocachers must stay within three metres of marked and maintained trails or areas designated for public access and use and ensure that natural and cultural resources of the area are not disturbed.
Authorization for individual cache locations will be determined at the discretion of local park supervisors.  Cache locations in areas deemed to be particularly environmentally sensitive (e.g. the Cedar Bog Trail in Birds Hill Provincial Park) will not be approved. Generally, a geocache may not be hidden:
In areas where new trails or clearings would be created due to the cache 
Where retrieval would entail digging, vegetation damage or other environmental impacts 
On or adjacent to campsite, vacation home, commercial lots or other development sites 
In group use areas or other sites which can be reserved for private use 
In resource use areas, such as active logging, mining, hunting or trap line areas
On or affixed to any park signs or structures. 
Please note that deer trails are not considered marked and maintained trails and should not be used for geocaching purposes.
5. And please remember - all general park rules apply to persons who are geocaching!
Certain trails may be closed at times due to conditions, maintenance requirements, or other concerns. Please respect trail closures and act in accordance with park signage.
If your application is approved, proceed to http://www.geocaching.com/ and apply to have the location posted on the official Global GPS Cache Hunt Site.
Under The Provincial Parks Act, objects left in a provincial park without authorization are considered "abandoned" and will be removed.