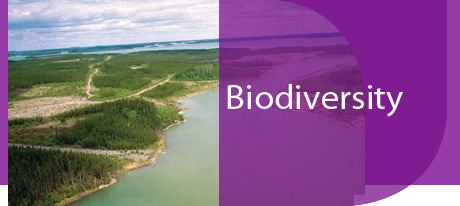 Manitoba is the meeting place of several major terrestrial ecosystems – prairies, boreal forest, and tundra. Aquatic ecosystems, including wetlands, rivers, and lakes, are also major features of Manitoba's landscape. Manitoba's biodiversity consists of the many thousands of plant, animal, and fungus species that make up these ecosystems.
Manitoba's biodiversity provides many social, economic, psychological, medical, and scientific benefits to humans. Do you
grow crops or have a garden?
hunt, fish, or trap?
bird watch or photograph wildlife?
enjoy hiking in the forest or paddling a scenic river?
pick wild fruit and mushrooms?
value clean water and air?
If so, then you benefit from biodiversity! Prairie grasses and wildflowers created the rich soil in which we grow our crops. Insects such as bees, flies, moths, and butterflies pollinate our crops and gardens. Plants purify air and help prevent pollutants from entering lakes and rivers, and all of Manitoba's ecosystems provide opportunities for hunting, fishing, trapping, wildlife viewing, and other recreational activities.
Learn about what's living in your backyard, at the cottage, in your favourite park or natural area, or on your farm. You can help conserve and promote this biodiversity in many ways. For example, you could use native plant species in your flower garden, conserve natural habitat where it occurs on your property, or support and work with organizations that protect natural areas.
The Government of Manitoba is working to sustain and promote Manitoba's biodiversity by incorporating biodiversity values into land use and protected areas planning, environmental assessments, and natural resource harvesting policies. A key related provincial program is the Manitoba Conservation Data Centre, which collects information on Manitoba's biodiversity and provides relevant information to government agencies, industry, conservation organizations, members of the public, First Nations, and other stakeholders.
Need More Info?
Email or call us at:
204-945-6784
1-800-214-6497
Contact MBCDC
Box 24, 41 Fultz Boulevard
Winnipeg, MB R3Y0L6

Quick Links
Resources