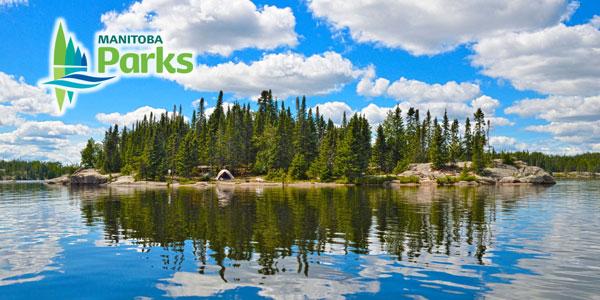 Welcome to Manitoba's Provincial Parks
Experience the rich cultural heritage and enjoy the spectacular beauty of our provincial parks. More than four million incredible hectares of land and water set aside in 92 provincial parks protected for your enjoyment. Choose from lush boreal forests, perfect prairie parklands, intriguing historic sites, sandy beaches, pristine lakes and crystal streams.
Use this website to find a provincial park that entices you and speaks to your desire for adventure in any season of the year. You'll find links to camping reservations, special programs, maps, news and more
Come discover Manitoba's treasures in provincial parks.
Important News and Program Updates
COVID-19 and Provincial Parks (Update March 24, 2020)
Office Closures: In light of requirements to practice social distancing, all Manitoba Conservation and Climate offices and park offices are closed to walk-in traffic.  We will continue to provide services, please call the local office or our toll-free line at 1-800-214-6497 or email sd@gov.mb.ca.  If in-person service is required, please call ahead to schedule an appointment.  Our interpretive centres are also closed and planned interpreter-led events are cancelled until further notice.
Practice Social Distancing!  Parks remain open for you to visit and enjoy the outdoors. Hike, bike or ski to get some fresh air, embrace the outdoors and become healthy by nature. You MUST practice social distancing at all times.  Please share this information with your family and friends.
Stay over 2 metres away from other persons.
Announce your presence on trails if approaching someone from behind.
Pack out everything you packed in and keeps pets on a short leash.
Expect limited access to facilities.  You are responsible for your own safety. 
As spring conditions arrive, check our Trail Conditions page for updates on ski trail conditions.
For accurate information on COVID-19, visit manitoba.ca/covid19
---
Parks Reservation Service Launch
The Parks Reservation Service will launch as scheduled on March 23, April 6 and April 8. For health and safety reasons, no in-person reservations will be accepted and reservations must be made online or through our call centre.
Online: https://prspub.gov.mb.ca/
Call Centre: 1-888-482-2267 (in Winnipeg 204-948-3333)
We encourage you to log in to your account before the launch dates to confirm your account information and to review reservation and camping policies.
Visit https://prspub.gov.mb.ca for more information.
---
Restrictted Access to Singush Lake in Duck Mountain Provincial Park due to the potential presence of zebra mussels. More information here.
---
Notice to Trappers: Interim restrictions on licenced trapping activity in provincial parks continue to be in place.
Need More Info?
Email or call us at:
204-945-6784
1-800-214-6497
Notices & Advisories
Quick Links
Resources