Bonnycastle Pasture Project Proves Beneficial to Agriculture and Wildlife
The Bonnycastle project was set up in 1992 to demonstrate how wildlife and cattle can co-exist under mutually beneficial conditions. This project, located along the Delta Marsh just south of Lake Manitoba, is in a world class waterfowl area and is a source of hay and pasture for local cattle producers. In the past, these differing land uses have been a source of conflict between wildlife and agriculture interests.
The Bonnycastle project is a joint venture between Delta Waterfowl and the Delta Agriculture Conservation Co-op (DACC). In 1928, James Ford Bell, founder of General Mills, turned this Marshland over to the North American Wildlife Foundation. From here, Delta Waterfowl Research station was developed and has become the premier organization of its kind in the world. That prestige is enhanced by many students from many universities throughout Canada and the U.S.A. The Delta Waterfowl is a private, non-profit organization whose goal is to sustain waterfowl population in North America.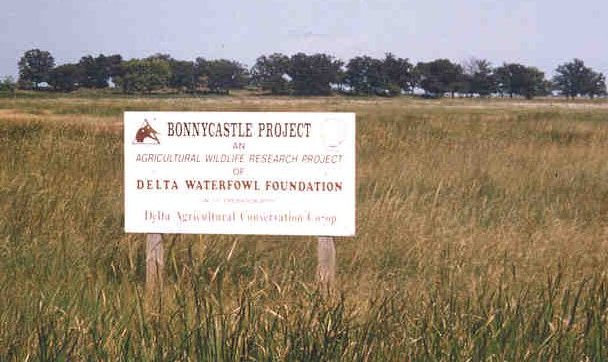 The DACC on the other hand is a group of about 100 cattle and grain producers in the Portage/Delta area who have a collective interest in conservation farming. In 1991, negotiations began for the Bonnycastle project leading to a five-year agreement, which has since been renewed for another five years. The two groups have been investigating the effects of managed grazing on waterfowl nesting and cattle production.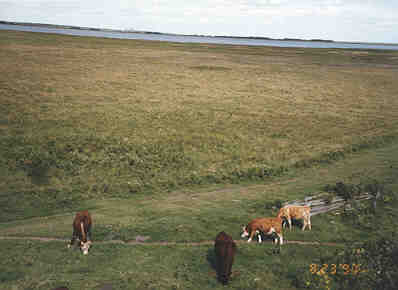 The pasture comprises of five paddocks of native grasses making up approximately 400 acres of grazeable land depending on the year and water levels. Fencing consists of a three-strand barbwire perimeter fence, cross-fencing with a two-strand high tensile electric fence, and a single-stand fence along the west side to prevent the cattle from entering the waterfowl nesting area. The cross-fencing is designed on the basis of the soil and vegetation zones, rather than the legal boundaries. The vegetation mainly consists of native grasses although one area has remnants of tame forages. One paddock is infested with foxtail barley; another is located on fragile saline soil, and a sandy ridge is highly erodible.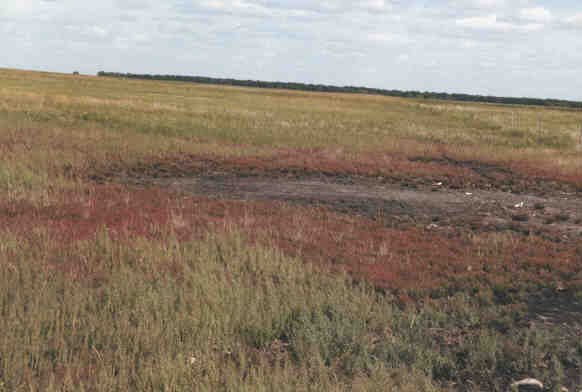 Each of these paddocks requires different grazing treatments and pressures for different vegetation types. For example, on the saline pasture grazing must be regulated to maintain the health of the desirable salt-tolerant species.
A twice-over rotational grazing management plan has been adopted for the pasture. Fifty to sixty replacement heifers belonging to 8-10 members graze the pasture from June 1 to October 1 each year. The cattle are moved from paddock to paddock approximately every 12 days, according to the grass conditions. In the central area of the pasture is a working corral used for sorting cattle, a cattle oiler, and a salt and mineral feeder. A solar-powered watering system provides fresh water from a sandpoint to a water trough also located at the corrals. Altogether this allows for easy checking and treating of cattle and for the rotation of the cattle from paddock to paddock.
A severe insect problem along Lake Manitoba makes maximum fly control essential. In the past this had been achieved through the use of an oiler and the biological fly control tunnel provided by Central Agricultural Conservation Area (CACA).
In 1998 and in 1999 Novartis provided Eliminator and Protector ear tags, respectively. It is important to rotate ear tags that use different families of insecticide to prevent horn fly resistance. On several inspections during the summer of 1998 insect control was 100%.
The DACC has been content with the condition of the cattle coming off the project. Cattle are weighed going on and coming off pasture to monitor performance.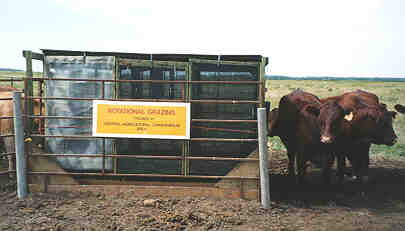 Biological Fly Trap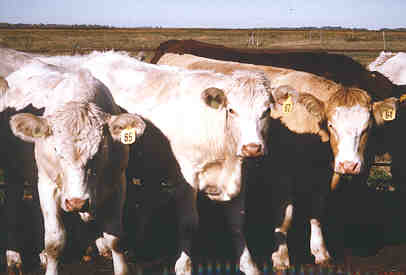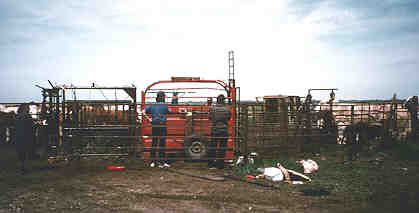 Cattle are Weighed, Ear Tagged & Vaccinated
As displayed in the chart below, the Average Daily Gains on the pasture during the past seven years has ranged from 0.87 to 1.44 lbs/day. Gains in some years were affected by the incidence of pinkeye and footrot. To reduce the cases of footrot, high iodine content minerals were given with flavor additives to increase uptake. In 1998, the gains per animal varied from 0.16 lbs/day to a high of 2.42 lbs/day.  
Comparison of Gains
| | | | | | | | | |
| --- | --- | --- | --- | --- | --- | --- | --- | --- |
|   | 1998 | 1997 | 1996 | 1995 | 1994 | 1993 | 1992 | Average |
| Total # of Females | 47 | 60 | 56 | 55 | 59 | 48 | 46 | 53 |
| Heifers | 1.23 | 1.2 | 1.18 | 0.99 | 1.32 | n/a | 1.5 | 1.13 |
| Group Average | 0.87 | 1.22 | 1.165 | 0.97 | 1.34 | 0.9 | 1.44 | 1.24 |
| Cows & 2 Year Olds | 0.51 | 1.27 | 1.06 | 0.91 | 1.49 | n/a | 1.1 | 1.06 |
On average, green cattle with good genetics arriving on pasture gain the best. Fleshy heifers carrying more condition consistently have lower gains. By managing the winter feeding program producers can take advantage of the cheap costs of pasture gain. However, one must ensure replacement heifers are adequately growing to achieve optimal size for breeding. Therefore it is important that replacement are not too green or too fleshy when they arrive on pasture.
Delta Waterfowl has monitored changes to the quality and amount of nesting habitat. Delta staff observe a continued nesting tradition within the paddocks, especially of blue-winged teal and shovelers (spoonbills). Two goose nesting structures in the pasture have been used readily.
Both Delta Waterfowl and the DACC have noticed slight changes to the vegetation, such as the opening up of reeds and rushes on the marsh edges and a decrease in density of snowberry on one pasture. In an attempt to enhance the existing nesting habitat, Delta Waterfowl constructed 14 "pair ponds" in 1995. These pair ponds are essentially small dugouts in wet areas, with the dirt mounds flattened and seeded down to provide a nesting area and cover. They are sectioned off from the grazing areas by a single wire electric fence. The rotational grazing system provides a "win-win" for agriculture and wildlife. The rotation results in better forage quality as well as providing cover for ducks and wildlife.
Participants' Comments
Kevin Mason, co-manager of the pasture and director of DACC
"It all seems to be working well for both DACC and Delta Waterfowl. The grass needs to be grazed evenly throughout the pasture to make the rotational system more efficient. However, the grass and stubble needs to be high enough to accommodate the ducks and their nesting patterns."
Vaughan Greenslade, Grassland Specialist - Manitoba Agriculture, Food and Rural Initiatives
"The Bonnycastle site is an excellent example of agriculture and wildlife working together for the mutual benefit of both. Grazing livestock have gained well in a complex plant community that was previously designated for wildlife alone. Even the Phragmites sp. were utilized by the livestock. Range condition was maintained or improved through proper stocking rates and grazing management. Wildlife and Waterfowl benefited by improved nesting habitat and to a lesser extent predator control. Carefully managed these sites can be a win-win situation for everyone."
Drew Stobie, Producer
"It's a great place to put your heifers if you're out of pasture at home. I find it interesting to compare my stock and management skills to the other producers on the pasture. It is also interesting to see what health programs are recommended for the project: it helps me tune up my management practices at home."
Doug Love, director of DACC as well as co-manager of the pasture
"Insects are more intensive around the Delta and appear to have an effect on weight gains. There has been much improvement with the combination of the insecticide cattle oiler, biological fly trap and the fly tags."
Terry Simpson, director of DACC
"It's a great way to see how the native pastures are doing near the marsh. I would consider the rates of gain comparable even though the pastures near my place are fertilized and the Delta is not."
Gerry Orr, Beef Specialist - Manitoba Agriculture, Food and Rural Initiatives
"I look forward to and enjoy the contact with the sponsors and participants at the Bonnycastle Project. It is encouraging that this shared use of resources can demonstrate mutual benefits for all stakeholders."
Benefits of Rotational Grazing
More uniform grazing and higher stocking density force cattle to graze less palatable plants.
Rest and recovery allows plants to replenish root systems.
Managed grazing is better timed during the optimal rapid growth stage versus the early slow growth stage or the later reproductive growth stage.
Management options such as haying a paddock, rejuvenating or brush control are possible.
Cattle management and treatment is easier when cattle are handled on a regular basis.
Increasing grass production increases cattle gains and/or carrying capacity.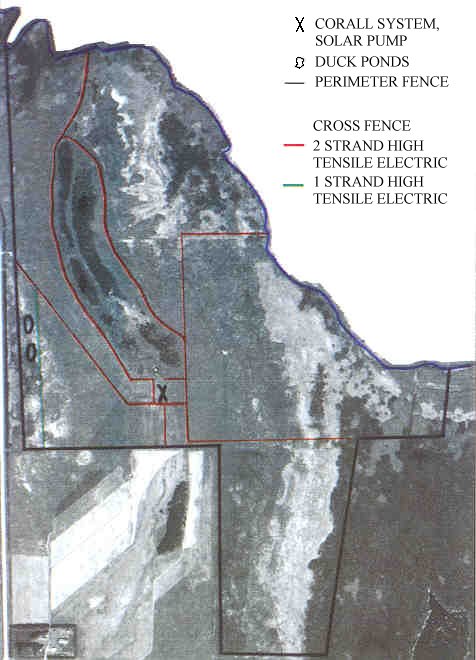 Aerial Photo of the Bonnycastle Pasture Project
Many different grazing systems exist. More and more producers are utilizing tame forages in their grazing systems to complement their native pasture. Fertilized tame forages are more productive than native pastures and provide earlier and later pasture. The selection of pasture variety grasses and legumes that are tolerant of grazing increase their longevity and productivity. This includes creeping rooted legumes and bunch-type grasses that have their growing points close to the ground where they are difficult to graze. A well-planned rotational grazing system that results in better grass management means more beef per acre being produced, and that's the ultimate goal.
For more information on this innovative and successful project, please contact the Portage Ag Office at (204) 239-3353 or the Delta Agriculture Conservation Group.