About The Sector
Food and Beverage Processing 
Food and beverage manufacturing is the largest manufacturing sector in Manitoba. Total revenue for the Manitoba food and beverage processing sector in 2017 was $4.4 billion, representing 24 % of Manitoba's total manufacturing revenue. This sector is the largest manufacturing employer in the province, directly employing over 12,000 Manitobans and accounting for 2.1% of the provincial Gross Domestic Product (GDP).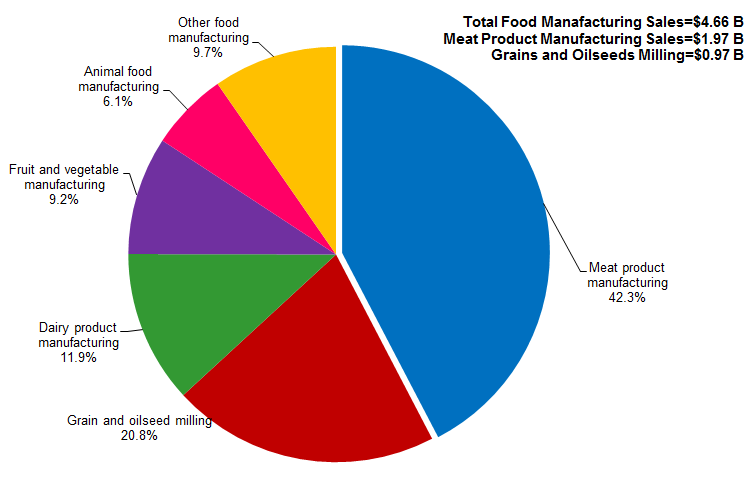 The industry is driven by a unique combination of advantages, including central geographic location, leading-edge science, product development expertise and a diverse bounty of livestock and agricultural commodities to supply potential processors.
The industry continues to look for new opportunities while new products and food items continue to be created with Manitoba-grown plants and animals.  Increasing global demand and popularity of healthy, local, organic and functional foods provides a stimulus for Manitoba's food and beverage processing sector to expand.  Manitoba has great potential to become a leader in North America in the growth of a protein-focused industry.
Exports for processed food and beverage products stood at $2.7 billion in 2017, an increase of 10.3 % from 2016. The top three largest sub sectors are meat manufacturing (mainly pork), grain and oilseed milling (mainly canola) and fruit and vegetable preserving and specialty product (mainly frozen potatoes).
In 2017, Manitoba's food and beverage processing industry exported to 78 countries with 96 % of the total export going to five major markets:  United States (60.3%), Japan (18.2%), China (9%), Mexico (7.1%) and South Korea (1.4 %).  The rate of growth of Manitoba's food processing sector exports has been higher than the Canadian average over the previous five-year period with Manitoba having grown at 8.2% versus 7.7% for all of Canada.
Manitoba has a vibrant food processing sector that is comprised of over 378 provincially and 131 federally inspected facilities.  They encompass:
more than 20 meat processors
three canola crushing facilities
two egg processors
flax  and hemp fibre production
most of Canada's hemp processing operations
a major centre for composites research and manufacturing
four potato processing plants
vegetable processing
functional food, nutraceutical and pharmaceutical production
organic and conventional flour mills and bakeries
dairy and cheese production
Visit the Markets and Statistics section to view food and value added agriculture reports and statistics.  
---
Bioproduct Processing
Manitoba is positioned to power Canada's emerging bioproducts economy. We have abundant natural resources, clean air and water - as well as strong research and business partnerships to move innovative products from concept to reality. 
Our vision for

bioproducts
The Manitoba government is committed to a sustainable bioproducts sector that will fuel the growth of our rural and northern economy. By 2020, Manitoba's bioproducts industry is expected to generate $2 billion in revenue annually. At least 80 % of this production will come from rural and northern Manitoba.
Manitoba's strategy
Our province has developed a bioproducts strategy to ensure that Manitoba is able to fully capture bioeconomy opportunities, while sustaining our needs for food, feed and medicines. The Manitoba Bioproducts Strategy was developed to provide information and strategic direction in developing the bioproduct sector in Manitoba.  The strategy also highlights the opportunities, challenges and strategic advantages that exist in the province. 
Priorities
The strategy will focus on:
sustainable biomass production and supply
biofuels and bioenergy

biofibres

and biomaterials

biochemicals
To move this strategy forward, we will:
establish innovation and industry champions
invest in research, innovation and commercialization
create a skilled workforce
support market development
increase public awareness
Manitoba's

bioproduct

advantages
More than 36.2 million acres of land with agricultural potential.
5.5 million acres sown to cereal crops and 400,000 acres sown to flax, producing about 6 million tonnes of biomass each year.
20 million tonnes of manure production per year by Manitoba livestock operation.
Strong research-industry partnerships.
Composites Innovation Centre
The Composites Innovation Centre is a world class non profit research and testing facility dedicated to advancing the bioproduct and biomaterials sector in Manitoba. 
For more information, contact Jeff Kraynyk - Leader, Industry Development.
Phone: 204-250-1906
Email: jeff.kraynyk@gov.mb.ca