Environmental Farm Plan
Your Land. Your Livelihood. Your Legacy.
Environmental farm planning improves the health and value of your farm, your business and leaves behind your legacy for the next generation of farmers.
What is the EFP?
The Environmental Farm Plan (EFP) is a voluntary, confidential, self-assessment of a producer's own farm or ranch that assists farm managers in identifying agri-environmental assets and risks and developing an action plan to reduce the identified risks. Environmental Farm Planning began in Manitoba in 2004 and continues to be a high priority for Federal and Provincial governments. It is currently supported through the Canadian Agricultural Partnership.
---
How to get an EFP on your farm
Workshop
Find an EFP Workshop near you. During the Workshop, Manitoba Agriculture facilitators and resource specialists will guide producers through the EFP workbook to assess their land, management, and address the associated risks. There is a large emphasis on Agriculture Capability and the correlation between soil limitations and environmental risks (leaching, runoff, soil degradation).
Workbook
The EFP workbook is available to producers who attend an EFP workshop. The workbook covers all aspects of a farming operation, including your farmyards, livestock facilities and your crop and pasture land management. Completion of the workbook allows you to assess your entire farm operation for environmental risk, and develop a customized action plan. 
"Farmers are concerned about the environment and keeping it for future generations, but when you go through the workbook, you suddenly realize you could do this differently."
Lorne Rossnagel, cattle and forage producer, Plumas, MB 
Workbook Review
In order to complete the EFP process, you must have your completed workbook reviewed by one of the KAP reviewers within one year of completing your workshop. Contact KAP directly at 204-697-1140 or kap@kap.mb.ca to schedule your Review. 
Statement of Completion
After KAP has reviewed your EFP workbook, your will receive a Statement of Completion certificate indicating you completed the EFP process.
Over time, farms and management practices change, plans need to be updated to remain reflective of the current operation. A Statement of Completion is valid for five years in Manitoba. Upon expiry, EFP Workbooks need to be renewed. 
---
Why is an EFP important?
Canada has long relied solely on our reputation as a clean, safe place to produce food. However, consumers' demand for agricultural products to be sustainably sourced continues to increase.
For more information, contact your local menting an EFP and adopting beneficial management practices (BMPs), producers are able to:
improve air, water and soil quality
conserve biodiversity on Manitoba farmland
contribute to environmental protection and conservation
Make Manitoba-grown commodities more marketable to environmentally concious consumers around the world
demonstrate due diligence by identifying environmental assets and risks on their farm and implementing actions to reduce those risks
"On our farm, it was a great success. It made us feel part of the solution."
Henry Holtmann, dairy farmer, Rosser, MB
"I discovered that relocating my livestock and improving their wintering site could cut back on the cost of fuel, feed and cleaning, and benefit the health of my cattle as well."
Gary Hamm, cattle producer, Morden, MB
---
Linkages to the EFP
Beneficial Management Practices
Ag Action Manitoba - Assurance: Beneficial Management Practices provides funding that will help farmers and select industry service providers implement beneficial management practices on their operations and help improve the value and health of agricultural land in Manitoba.
Ag Action Manitoba - Assurance: Watershed Ecological Goods and Services provides funding to conservation districts to work with farmers to implement practices that conserve and enhance ecological goods and services (EGS) on the agricultural landscape.
SARPAL
Species at Risk Partnerships on Agricultural Lands (SARPAL), provides funding to support projects related to the conservation of species at risk. An EFP is a prerequisite to the program.
If you have species at risk on or near your property, you may be eligible for financial support to implement specific beneficial management practices. Please contact Manitoba Habitat Heritage Corporation to discuss funding opportunities.
Market Requirements
Potato Production Chapter
2010: Based on consumer demand, McDonald's requested that their suppliers (McCain's, Simplot, etc.) prove that they were producing potatoes in a sustainable fashion. In response, Manitoba Agriculture worked with McCain's to develop a Potato Production chapter for the EFP that meets the requirements of the Potato Sustainability Initiative. As a result, potato producers (processing) in Manitoba with a valid EFP are eligible to qualify for contract.
Field Pea Production Chapter
2018: Roquette has commenced construction on their new pea processing plant in Manitoba
Roquette Pea Processing will require its producers to meet a certain sustainable sourcing standard and has identified the EFP as a best means to acheive this.  
Sustainable Sourcing
Sustainable sourcing refers to the use of environmental and social criteria in purchasing decisions, alongside traditional criteria of price and quality. The EFP can serve to fill the Environmental pillar of Sustainable Sourcing requirements.
"People, Planet, Profit" - Wilton Group, ON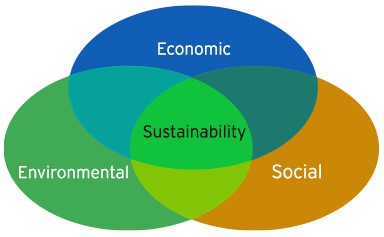 National Alignment
Across Canada, the EFP is offered in all provinces and the Yukon Territory, however the exact content differs slightly from region to region. These discrepancies can be cumbersome for buyers who are sourcing products from multiple Canadian regions.
The National Environmental Farm Plan (NEFP) builds upon the existing and historic EFP program, which has widespread support from producers, to develop a whole-farm sustainable sourcing program for Canada. By building a national, consistent standard and defining a baseline of content in each of the regional EFPs across Canada, the NEFP will reduce confusion regarding equivalency between provinces and will also reduce burden on producers in needing to complete multiple programs aiming at acheiving the same goal.
The NEFP has decided upon alignment with the SAI-FSA V2.0. Once the EFPs are aligned, completion of the regional EFP programs will allow a minimum of FSA Bronze certification for farm managers.
Since 2004, over 6,000 producers have participated and completed an EFP in Manitoba, assessing nearly 10 million acres of agricultural land under this program.
For more information, contact your local Manitoba Agriculture Office.