Starting a Commercial Greenhouse Bedding Plant Operation in Manitoba
Industry Statistics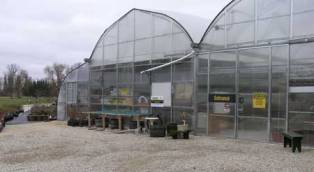 Manitoba greenhouse production at present consists of approximately 240 commercial greenhouse operations the vast majority of which are involved in the production of bedding plants. The total value of ornamental plants, flowers and bedding plants produced in Manitoba greenhouses was estimated at $25.5 million in 2001.
Greenhouses in Manitoba are producing everything from floral crops such as cut flowers and bedding plants to herbs and vegetables. Given the cost of production for greenhouses in Manitoba, due to the extremely cold climate in winter, the majority of greenhouses in Manitoba operate on a seasonal basis usually from February-March to September (7 months). A small number of greenhouses operate on a year-round basis producing high value crops for specialty markets. This includes poinsettias, Easter lilies and other indoor plant material for the home and office such as cactus and tropicals.
The greenhouse industry is well established in the province and the markets vary by region and season. Plant material is exported to the United States from the province at a profit, mainly due to aggressive marketing and quality product, even with the current exchange rate.
Wholesale prices for bedding plants are quite volatile, which can be attributed to increased competition in this area. Declining prices were the norm as increased competition from imports and chain stores caused heavy competition and the prices to decrease. Slight increases for the near future are expected, however this trend may be short-lived. For example the average wholesale price of a flat of bedding plants ranged from $13.99 - $15.99 depending on the variety and type of bedding plant. This translates to roughly $9.00/square foot of bench space for annuals. This remains relatively unchanged for 2000/01 based on industry statistics.
Getting Started
Some questions to ask before you get started:
Who will be my customer?
What will I produce?
When will I operate the greenhouse?
Where should I build?
Why a greenhouse?
These are only a few of the questions you should seriously consider before you begin. The greenhouse industry is as varied as the plants that they produce. Knowing what type of operation you want from the beginning will considerably lower the possibility building a greenhouse that does not meet your needs in the future. The type of operation, wholesale or retail, will determine the type, size, location and layout of the greenhouse. For example a retail operation needs to consider factors such as location, proximity to a large market, zoning, health regulations, retail license, signs, accessibility, liability insurance, good roads, customer parking, and facilities to accommodate the public. A wholesale operation is less dependant on a prime location, however, proximity to market needs to be considered when determining transportation costs. A wholesale operation also limits the type and variety of crops grown and limits the marketing base. This can be an advantage in situations where wholesale product is in demand and contracts can be acquired to supply local retail outlets.
Business Structure And Operation
As with any business venture a greenhouse bedding plant operation requires a sound business plan. A good business plan includes; a business organization, a marketing plan (e.g. competition, pricing, advertising, promotion, etc.), a human resources plan, a production plan (equipment, facilities, supplies, production schedule, etc.), a financial plan, and long range projections or goals. Without a well thought out and realistic business plan, the long-term viability of the enterprise will be in question. Consult with individuals in the business and if possible, discuss how they achieved success. This will hopefully save you from costly mistakes and provide a basis for decision making that will lead to a successful beginning in the commercial greenhouse industry.
Market Opportunities
Opportunities in retail greenhouse production include specialty crops such as herbs and spices, pharmaceutical plants, medicinal plants, pot plants, cut flowers, exotic vegetables and organically produced plants. Competition in the greenhouse bedding plant industry is intense with the greenhouse growers having to compete with a global market and large discount chain stores. The discount chain stores have changed the focus of many greenhouse bedding plant operators to provide superior product and service at a competitive price. This competition favours the consumer and as a consequence shortens profit margins for the small greenhouse bedding plant grower. Bedding plants will still offer market potential depending on your location, setup, selections, marketing and service. There are many factors to consider when determining your marketing strategy.
Some points to consider when developing your marketing strategy are:
Research your customers. Know what they want and when they want it.
Determine what is available in your area and who is producing it.
Identify niche markets.
Determine the type of outlet that best suits your personal ability and services the identified needs of the area. (Wholesale vs Retail)
Determine your ability to produce for the market at a return that covers your expenses.
Determine how much time you are willing to spend in this operation and be prepared for unforeseen situations.
Value-added in the form of making the product on the premises or supplying unique items to the consumer is one of the marketing strategies being used in the greenhouse industry today. The independent greenhouse grower cannot compete on a price basis with the large discount stores. Therefore, the independent greenhouse grower must fill in the niche market where the discount store cannot compete. This area is good service, good quality plant material and a unique product.
Greenhouse growers have indicated that the secret to success in the greenhouse industry today is to provide superior service to the customer and superior quality product at a fair price. Even if the price is higher than the discount stores, the customers are willing to pay the extra for the service provided by the greenhouse grower. Another strategy used by the greenhouse grower is to custom design and assemble specialty pots and arrangements the customers cannot obtain in the discount centers. These arrangements are inexpensive and simple for the grower to produce while still commanding a premium retail price. The growers are emphasizing the quality and "home grown" product appeal of the independent greenhouse products and, in most cases, the customers appreciate the fact that they are supporting a local business.
Construction Costs
After you determine the type of operation you are going to start - retail, wholesale and/or both, you need to decide on the type and size of greenhouse that is required for your needs. Since Manitoba's climate dictates the greenhouse must withstand temperature extremes, snow load, hail, ice, wind, etc., then the style of greenhouse is limited.
The most common greenhouse structure in Manitoba is the double poly Quonset style or the double-poly gutter-connected greenhouse. The average cost of construction for a double poly greenhouse (most common type of greenhouse in Manitoba) including benches and internal equipment averages between $12 - $17/square foot.
The single Quonset style greenhouse typically costs less to construct initially, but expandability tends to be limited to building a completely new structure. The gutter-connected greenhouse offers expandability as well as reducing the amount of surface area exposed to the elements. This includes only standard internal equipment. The actual cost of construction may vary considerably depending on the amount and sophistication of the equipment installed and the cost of real estate and construction. As all greenhouse construction costs are based on new and include the depreciation over the life of the structure, actual costs may vary considerably.
Return On Investment
The average gross return from a bedding plant operation in Manitoba is $7-9/square foot of bench. This estimate includes such factors as production costs and net return, however this is dependant on management factors such as amount of debt servicing, maintenance, repairs to structure, overhead (taxes, utilities etc.), payroll, advertising and other costs of operation.
Note: The above are cost estimates based on interviews with existing commercial growers, individual costs may vary considerably.