Chokecherry Gall Midge (Contarinia Virginianae)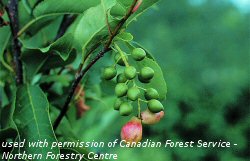 Chokecherry gall midge infected fruit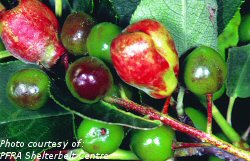 Chokecherry gall midge infected fruit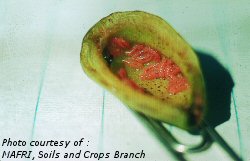 Chokecherry fruit gall midge larvae
Host Plants And Distribution
This insect feeds on chokecherry and saskatoon. It is found throughout the Prairie Provinces.
Biology
The chokecherry fruit gall midge is a tiny fly that causes direct damage to the fruit. Adults emerge from overwintering pupae in late May and lay their eggs in the flowers. Tiny yellowish-orange maggots feed on the developing fruit. As feeding continues, the developing fruit becomes enlarged (gall) and the developing seed aborts. Larval feeding continues until late July, when the larvae drops out of the gall to the ground to pupate. The hollow, damaged fruit will often drop off before the berries are ripe.
Symptoms And Damage
Feeding by the larvae causes a gall to form. The gall is the enlarged fruit, which is pear-shaped and hollow. There may be a combination of normal berries and galls on the same fruit cluster. Initially the gall is green in colour but changes to red as it develops.
Scouting Techniques
Monitor developing fruit for formation of galls. Removing and destroying galls may aid in keeping the populations down.
Economic Thresholds
No economic thresholds have been established for this pest.