Surveillance of Canola Diseases in Manitoba
Canola is an economically important crop in Manitoba, but its continued profitability relies on the management of pests, such as diseases. Annual disease surveys of canola give valuable information on distribution in the province and the impact of farming practices (and weather) on incidence and severity.
Results from disease surveys help farmers, agronomists and researchers prioritize where future research is needed and provides early warning about new diseases or varietal resistance/pesticide failure.
Annual canola disease surveys have been occurring in Manitoba since 1971 with collaboration from Agriculture and Agri-Food Canada (AAFC), Manitoba Agriculture and Resource Development (MB ARD). 
In more recent surveys (2009 to present), AAFC Brandon and MB ARD have targeted 150-200 fields annually across the canola growing regions of Manitoba.  Surveys occur as canola is ripening (30-40% seed colour change) to assess for the prevalence (% crop infested) and incidence (%plant infected) of Sclerotinia, Blackleg, Aster Yellows, Alternaria, Foot Rot, Verticillium Stripe and Clubroot.
In each field, 100 plants are selected from a "W" pattern, where the five points of the "W" are at least 20 paces apart.  All plants are pulled from the soil and individually examined for presence of disease.  Soil samples can also be collected to test for the presence of clubroot spores in the soil.
In reviewing the results below, please note that "Prevalence" is the % of fields having infection across the province. "Severity" refers to the average rating (on a 0-5 scale) within infected fields.  All these results and more information on the individual survey year can be found in the Canadian Plant Disease Survey publication from the Canadian Phytopathological Society.  The reference for each survey is below that year's table.
Results of Canola Disease Surveys 2018 - 2020:
Verticillium stripe

17
Reference: Survey of canola diseases in Manitoba in 2020. 
Can. Plant Dis. Surv.
in press
Verticillium stripe

Reference: Survey of canola diseases in Manitoba in 2019. Can. Plant Dis. Surv. 100:199-204

Reference: Survey of canola diseases in Manitoba in 2018. Can. Plant Dis. Surv. 99:175-178
Here is a graphical representation of the changes in prevalence of three important diseases over the period 2017 - 2021.  Note that the last four years have been exceptionally dry. The data from 2021 is preliminary and, although prevalence of both blackleg and Verticillium stripe increased, the average severity of all three diseases was very low.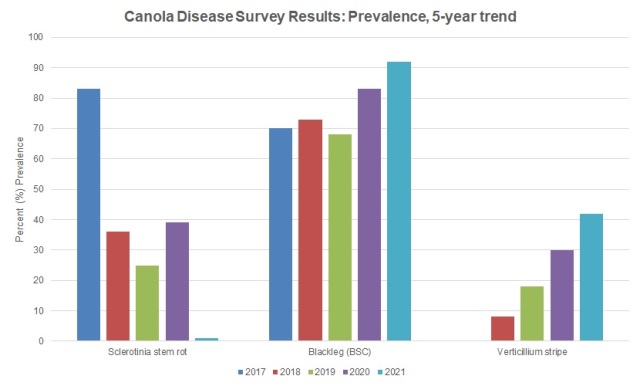 For more information on diseases in canola, visit the following pages: