Manitoba Insect and Disease Update: May 27, 2014
Compiled by:
John Gavloski, Entomologist
Manitoba Agriculture, Food and Rural Development
Phone: (204) 745-5668
Fax: (204) 745-5690
Vikram Bisht, Plant Pathologist
Manitoba Agriculture, Food and Rural Development
Phone: (204) 745-0260
Fax: (204) 745-5690
To report observations on insects or plant pathogens that may be of interest or importance to farmers and agronomists in Manitoba, please send messages to the above contact address.
To be placed on an E-mail list so you will be notified immediately when new Manitoba Insect and Disease Updates are posted, please contact John Gavloski at the address or numbers listed above.
Summary: Some localized wireworm damage to wheat has been reported in the Eastern and Central regions. Diamondback moth trap counts remain low.
Knowing what is and is not a wireworm 
While looking in the soil, there are various invertebrates that could possibly be confused with wireworms. I have had a few "wireworm" enquiries where what was described sounded more like enchytraeid worms.
Figure 1 shows a wireworm. Note the 3 pairs of small legs at the front of the body.
Figure 2 is the larvae of a stiletto fly (sometimes called therevids). They have no legs and will thrash around a lot when disturbed. They are predators.
Figure 3 is a centipede. They are fast moving predators, and will have 15 or more pairs of legs.
Figure 4 is an enchytraeid worm. They feed on dead plant material and fungi and will not damage living plants.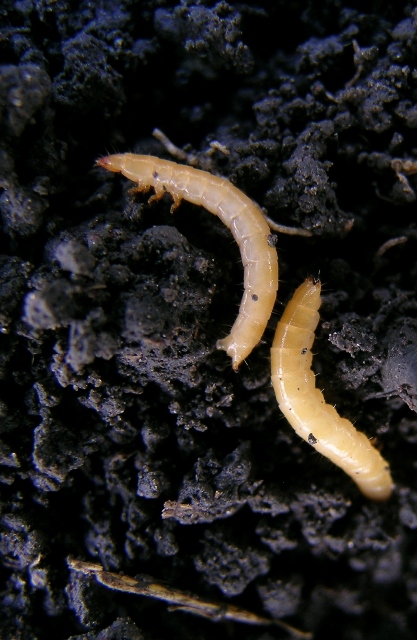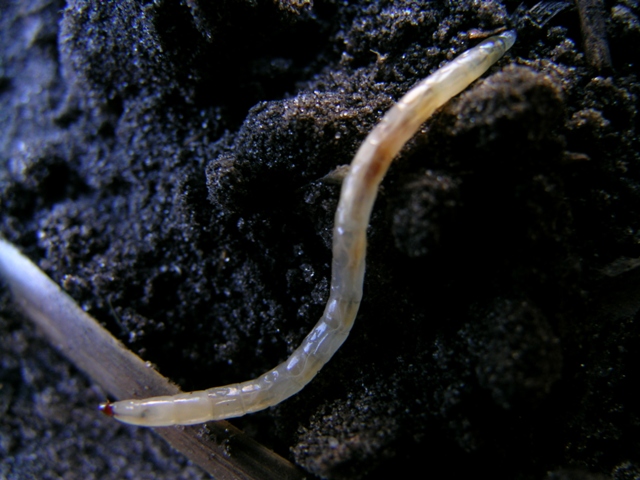 Figure 1. Wireworms                                                    Figure 2. Therevid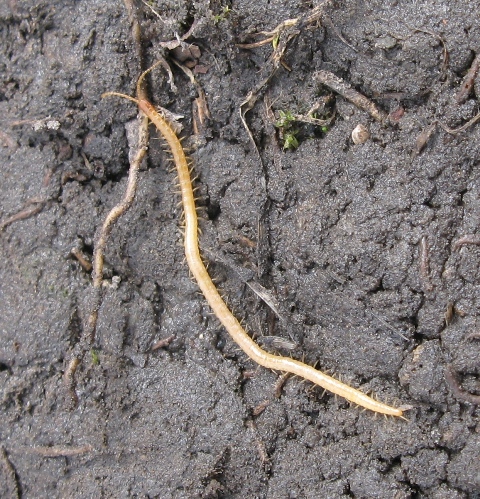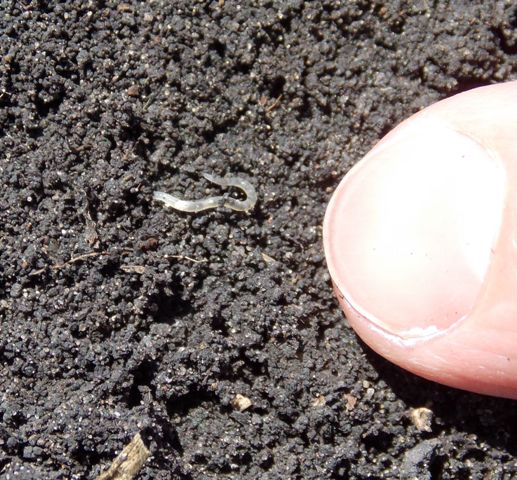 Figure 3. Centipede                                     Figure 4. Enchytraeid worm. Photo from Terry Buss/Earl Bargen
Monitoring Wheat Fields for Wheat Steak Mosaic. Four winter wheat fields were recently checked for wheat streak mosaic. In one of the fields the stubble from the canola was cut really short and there was patchy winter kill. In fields with tall stubble the winter wheat survival was very good. Wheat streak mosaic was not found in any of the fields. Growers need to check their fields to confirm they don't have the disease. 
Insect Monitoring Programs
Diamondback Moth: From May 24-26 there were a number of winds crossing the prairies that originated over southwest USA and Mexico. This is the first time this spring that this has occurred. However, counts are still low in the diamondback moth traps. So there is no evidence yet of diamondback moth being blown in and deposited in Manitoba. Highest trap counts so far are:
| Location | Region | Count |
| --- | --- | --- |
| Durban | Valleys North | 12 |
| St. Adolphe | Red River | 12 |
| River Hills | Eastman | 7 |
| Elma | Eastman | 6 |
| Stread | Eastman | 6 |
| Ninga | Ninga | 4 |