Page Content
Manitoba Insect & Disease Update
Issue 5:  June 15, 2016
Summary
Insects: Cutworms continue to be an issue in some areas. Flea beetle feeding continues, although foliar use of insecticides for flea beetle management has not been widespread. In many fields plants are now getting to stages more tolerant to feeding by flea beetles. Alfalfa weevil is being noted at high levels in some alfalfa fields.
Plant Pathogens: Rust diseases in cereal crops and sunflower have been observed in Manitoba. Root rots in soybeans have also been reported from various locations in Manitoba. Scouting and monitoring progression of disease symptoms in the field will help in making fungicide application decisions.
Several samples of soybeans showing root rot symptoms have been submitted to Manitoba Agriculture's Crop Diagnostic lab. Root rot is soybeans are caused by pathogens like Fusarium spp, Phytophthora sojae, Rhizoctonia spp and Pythium spp.
 Table 1. Root rot pathogens of soybeans, optimal environment and typical symptoms
| | | |
| --- | --- | --- |
| | Cool (10-15˚C), wet soil | Water soaked lesions on hypocotyls and cotyledons. Pre and post emergence damping off and rotted seedlings |
| Rhizoctonia spp. | Warm (20-27˚C), moist soil | Reddish brown lesion on hypocotyls at the soil line. Can cause girdling of the stems |
| Fusarium spp | | Reddish brown to dark brown discolored roots, brown discoloration in vascular tissue |
| Phytophthora sojae | Warm (20-27˚C), moist to wet soil | Pre and post emergence damping off, infected stems may appear water soaked. Root may be brown and soft or missing |
Diseases of Cereal Crops 
As reported in last week's update, stripe rust has been detected at a low incidence in a winter wheat field near Gladstone, MB. Some leaf rust in wheat and crown rust in oats were also reported in the United States. Therefore, scouting for rust diseases in cereal crops and monitoring the progression of symptoms will help in making fungicide application decisions.
For more information on rust diseases, check the links below:
Sunflower diseases
Some of the early symptoms of sunflower rust have been spotted in Manitoba. A fungal pathogen, Puccinia helianthi causes rust in sunflowers.
Typical symptoms include small yellow-orange lesions on the upper surface of leaves and presence of aecial cups (a group of orange colored cups) on the underside of leaves. However, sunflower rust can also affect other parts of plants such as stems, petiole, bracts and back of the head. Refer to Guide to Field Crop Protection for information on fungicides registered for control of sunflower rust.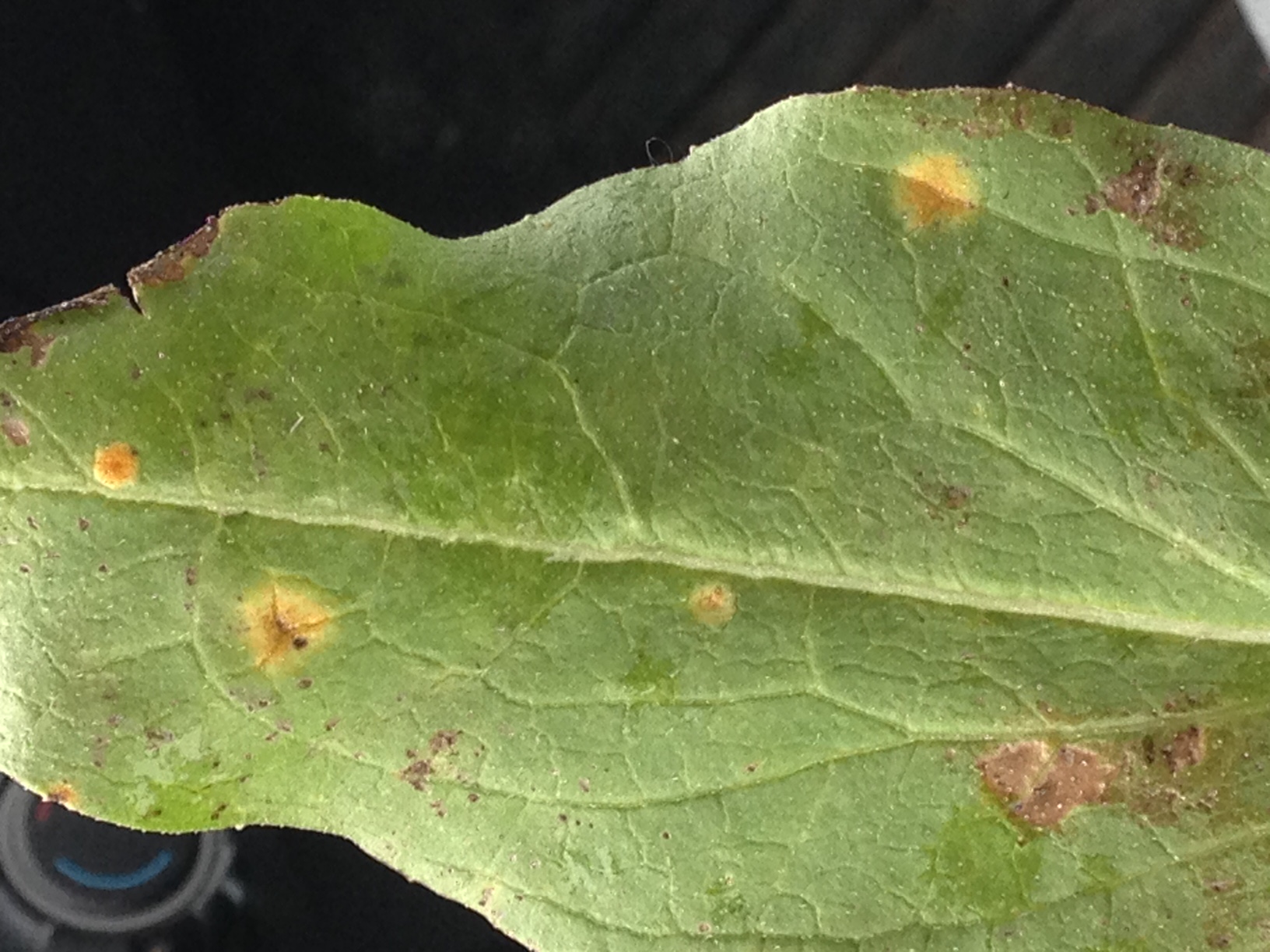 Figure 1. Pycnial stage of sunflower rust, first noticeable sign
Photo submitted by Troy Turner, National Sunflower Association of Canada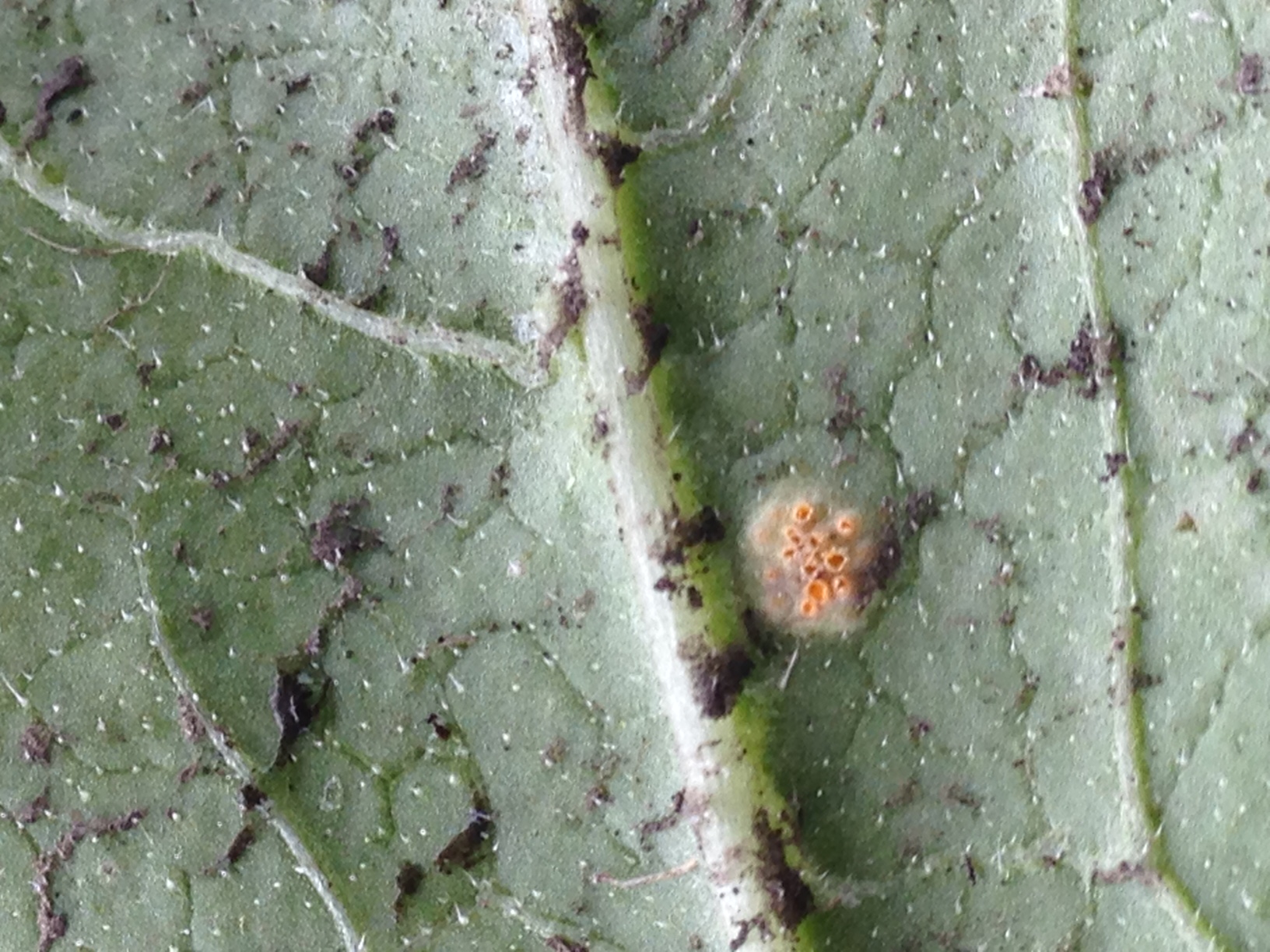 Figure 2. Aecial cups of sunflower rust, a second set of symptoms
Photo submitted by Troy Turner, National Sunflower Association of Canada 
Alfalfa weevil will feed on developing leaves and buds of alfalfa plants, and high levels of defoliation have been reported from some alfalfa fields in the Northwest, Central and Interlake regions. In some instances, early cutting was used as a management strategy. In other instances insecticides have been applied.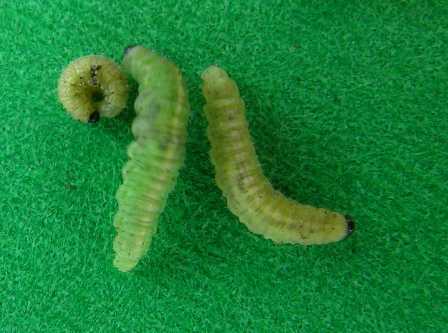 Figure 1. Larvae of alfalfa weevil.
 Monitoring tips: A suggested monitoring strategy in alfalfa hay fields is; collect 30 stems while walking in a "w" shaped pattern in the field, and place them into a white pail. Beat the stems against the side of the pail to dislodge the larvae. The economic thresholds for chemical control of alfalfa weevil are:
• less than 30 cm crop height - one larvae/stem
• 30 to 40 cm crop height - two larvae/stem
• Three larvae/stem requires immediate action regardless of the height of the crop.

In alfalfa seed fields, a sweep net can be used or the percent of foliage tips showing damage can be assessed to make decisions based on the following nominal thresholds:
Foliage assessment: 35 to 50 per cent of foliage tips show feeding damage.
Larvae in sweep net: 20-30 3rd/4th instar larvae per 180 degree sweep of insect sweep net. 
 Insect Monitoring Programs 
Diamondback Moth: Some traps started to record moth counts that likely resulted from low populations arriving in Manitoba prior to or during the week of May 1-7. Levels of moths captured in traps in subsequent weeks have varied depending on the region of Manitoba.
Numbers caught in traps in most regions generally do not suggest a high risk of more widespread economic populations. For those scouting canola and cruciferous crops in the Northwest, Eastern and Central Manitoba, examining plants for diamondback moth larvae is encouraged as localized economical populations could occur. Risk in the Southwest and Interlake is currently quite low. Once diamondback moth adults are moved into an area on wind currents, factors such as weather conditions and natural enemies will determine how successful larvae become established.

Table 1. Highest cumulative trap counts per region over the trapping period (May 1 to June 15, 2016):
| Location | Count |
| --- | --- |
| | |
| Northwest | |
|   Minitonas | 199 |
|   The Pas | 138, 120, 82 |
|   Ste. Rose | 110 |
| Southwest | |
|   Justice | 25 |
|   Franklin | 12 |
|   Hamiota | 9 |
| Central | |
|   Elm Creek | 71 |
|   Myrtle | 53 |
|   Sperling | 50 |
| Eastern | |
|   Morris | 96 |
|   Beausejour | 53 |
|   Rosenort | 50 |
| Interlake | |
|   E. Selkirk | 14 |
|   Lundar | 11 |
|   Grahamdale | 8 |
A summary of diamondback moth monitoring in Manitoba, and more detailed interpretation, can be found at:
http://www.gov.mb.ca/agriculture/crops/insects/diamondback-moth-forecast.html
Bertha armyworm: So far trap counts have been very low, the highest count being 1 at several locations after the first week of monitoring .
Compiled by: 
John Gavloski, Entomologist                    Pratisara Bajracharya, Field Crop Pathologist        
Manitoba Agriculture                                    Manitoba Agriculture
Phone: (204) 745-5668                               Phone: (204) 750-4248      
To report observations on insects or plant pathogens that may be of interest or importance to farmers and agronomists in Manitoba, please send messages to the above contacts.
To be placed on an E-mail list so you will be notified immediately when new Manitoba Insect and Disease Updates are posted, please contact John Gavloski at the address or numbers listed above.