Manitoba Insect & Disease Update: July 28, 2015
Summary
Plant Pathogens: At the Crop Diagnostic Lab there are canola plants coming in with blackleg and sclerotinia.
Sone soybeans have been showing root rot – rhizoctonia and fusarium.
Some sunflower fields are showing basal and mid-stalk sclerotinia.
Some flax fields are showing pasmo lesions on stem and leaves.
Insects: Levels of armyworms are starting to decline in some fields as they turn to pupae. Lygus bugs have been reported at economic levels in sunflowers, and in a few canola fields in eastern Manitoba. Some corn fields in Central Manitoba have had European corn borer near threshold levels. European corn borer have also been noted in potatoes in the Carberry area. Soybean aphids are present in many fields, but remain well below the economic threshold.
Spotted wing drosophila is present and at high levels in many raspberry crops.
European Corn Borer
Young larvae of European corn borer have been seen in some corn and potato fields. In many cases the populations are below economic thresholds, although there has been some control in corn in the Central region. Now is the time to scout corn to see what the prevalence of corn borer is. Look on the underside of the corn leaves near the midrib for the eggs of European corn borer. In Figure 1 below, the eggs in the upper-right are younger with little development having occurred. The eggs on the bottom-left are older and close to larval emergence. When you see black dots on the eggs, they are getting close to hatch. Figure 2 shows a young larvae of European corn borer.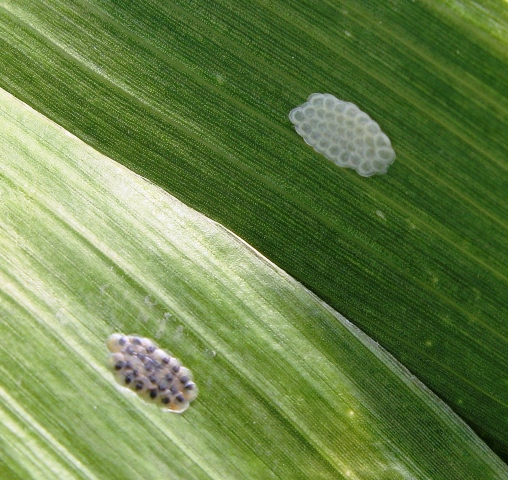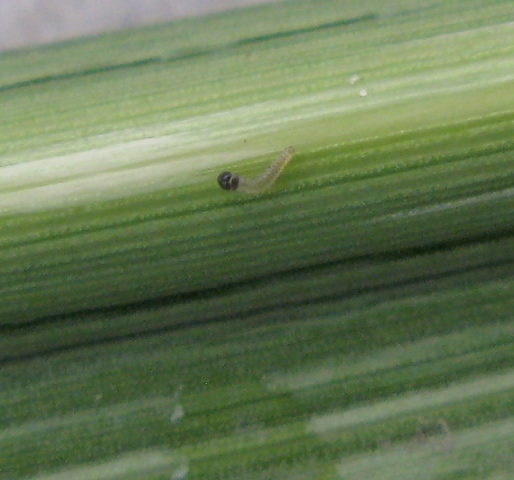 Figure 1. Eggs of European corn borer                  Figure 2. Young larva of European corn borer
Research has shown that in potatoes European corn borer does not have a big impact on marketable yield in the absence of disease. However, European corn borer damage may predispose potato plants to pathogens. Data from Prince Edward Island indicated that 1.2 larvae/stalk/week reduced yields of Russet Burbank by a margin of 8-9%.
Lygus bugs have been noted in some fields of confection sunflowers, and with economic thresholds being low there have been some insecticide applications as a result. Seed weevils continue to be at very lower levels. It is good to be checking confection sunflowers for Lygus bugs, banded sunflower moth, and seed weevils when plants are in the very early flowering stages. It is unlikely economical populations of seed weevils will be found this year; please let me know if you are finding any as I would be curious if anyone is encountering them. Lygus bugs are the more likely insect to be of concern in some fields, but may not be present at economic levels in all fields.
Lygus bugs are not a concern for growers of oilseed sunflowers that will be used for oil, but can be of concern in confection sunflowers or oilseed sunflowers marketed for baking. If a sunflower field does need to be sprayed for Lygus bugs, the timing of the application, both stage of plant and time of day, is important to help maximize yield and quality. Treatment in the R4 to R5.1 stage is the recommended stage to treat if populations are above the economic threshold. Also consider that in flowering sunflowers there will be pollinators, which are also helping improve yield of the sunflowers, as well as providing a livelihood for beekeepers. The only insecticide registered for Lygus bugs in sunflowers is Matador, which can not be applied to flowering crops when bees are visiting the treated area. So once again, if treatment is necessary spraying as late in the day as practical is preferred.
Cereal Crops
White heads in wheat, could it be wheat stem maggot? White heads of wheat (Figure 3) are noticeable in some fields of wheat that should otherwise have green heads still. One possible cause of this is wheat stem maggot. There are diseases and environmental factors that can also cause white heads in wheat, so it is not always immediately obvious what the cause is. If wheat stem maggot is the cause, most of the heads will easily slide out of the stem when you pull on them. And if you slit the stems you may be able to see the pale green maggots inside (Figure 4). They also tend to leave frass in the stem that looks like sawdust. In some of the wheat around Carman the white heads are noticeable, but at such low levels that yield loss would be negligible.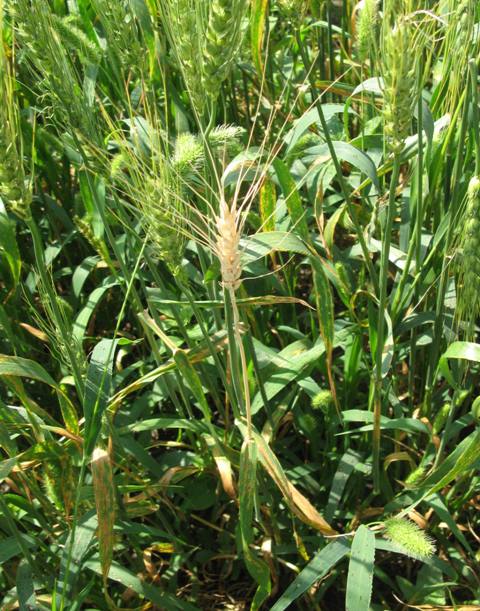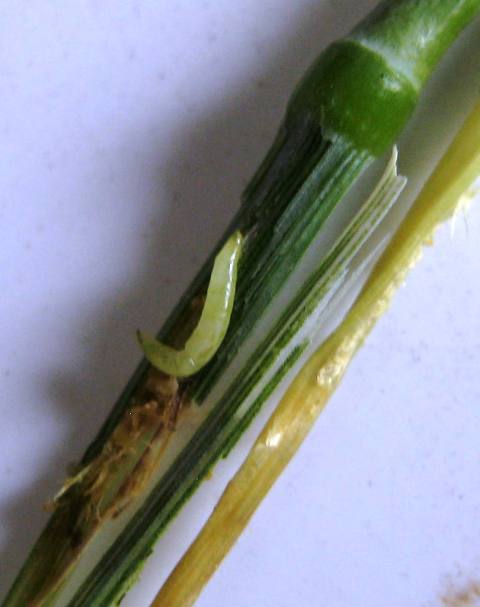 Figure 3. White head from wheat stem maggot.        Figure 4. Larva of wheat stem maggot.
This is something that can be very noticeable, because of the way the white heads stand out, but is rarely of economic significance. The are no insecticides registered for wheat stem maggot, nor guidelines for timing an insecticide. So it is worth checking out what is the cause of the white heads, but for wheat stem maggot it is not something to get too alarmed over.
Insect Monitoring Programs
Bertha Armyworm: Pheromone-baited traps are used to monitor adult moths of bertha armyworm, and forecast areas that potentially could have higher levels of larvae later in the summer. The trapping period for this monitoring period is now finished. Anything under a cumulative count of 300 moths in the trapping period is considered lower risk.
The highest cumulative count in Manitoba, after 8 weeks on monitoring traps, is 264 moths. Counts remained in the lower risk category over all of Manitoba.
Table 1. Highest Cumulative Counts of Adult Moths of Bertha Armyworm in Manitoba as of July 28, 2015
| Location | Region | Trap Count |
| --- | --- | --- |
| Darlingford | Pembina | 264 |
| Somerset | Pembina | 200 |
| Alexander | Southwest | 192 |
| Douglas | Southwest | 177 |
| Inglis | South Parkland | 170 |
| Roseland | Southwest | 111 |
| Tourond | Eastman | 109 |
| Carberry | Central Plains | 108 |
While scouting canola in late-July and August, it is good to have a look for bertha armyworm larvae under debris on the soil, particularly if you do see evidence of feeding.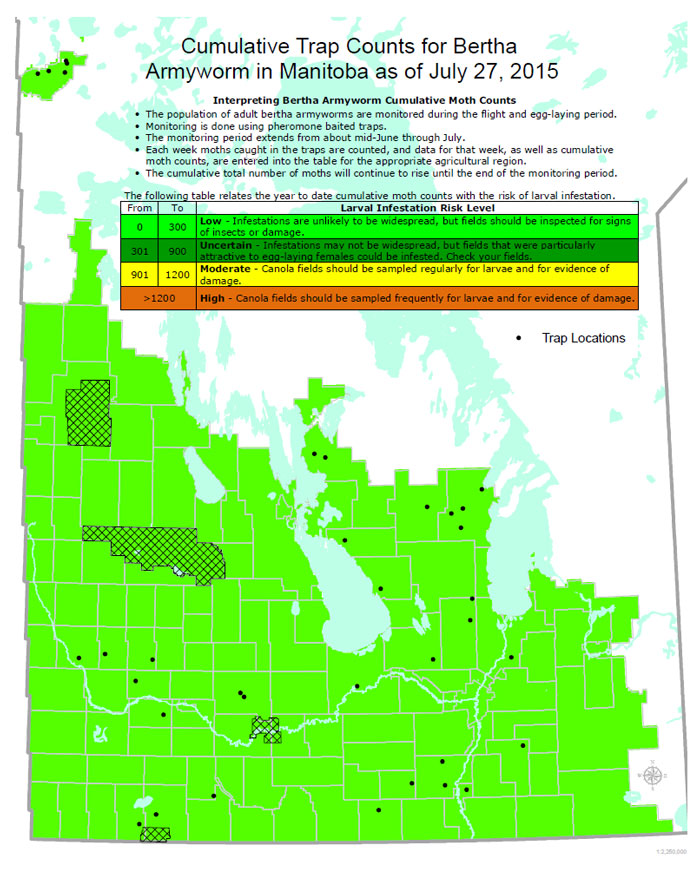 Compiled by:
John Gavloski, Entomologist
Manitoba Agriculture, Food and Rural Development
Phone: (204) 745-5668      Fax: (204) 745-5690. 
To
report observations
on insects or plant pathogens that may be of interest or importance to farmers and agronomists in Manitoba, please send messages to the above contact address. 
To be placed on an
E-mail list
so you will be notified immediately when new Manitoba Insect and Disease Updates are posted, please contact John Gavloski at the address or numbers listed above.

Manitoba Insect & Disease Update: Ju