Being an Effective Leader
Becoming an effective leader is a process that happens over time. Much research has been done to determine the traits of an effective leader. These include:
Knowledge:  Leaders have solid knowledge about how the organization works. They know how to run     meetings and understand the governance documents of the organization.
Communication:  Strong communication skills means having the ability to listen, to be sensitive to the needs of others, to provide support and advice and to motivate and negotiate.  Leaders are able to delegate work to other board members.
Vision:  Having a focus on the vision, the long term perspectives and what the board will accomplish in the future.  To lead change.
Collaboration:  Leaders are good at relationship building.  They value diversity and differing opinions.  They work with board members to make decisions.  They engage stakeholders and encourage partnerships.
Critical Thinking and Problem Solving:  Leaders challenge processes to come up with the best solution. They ask "why" and look for different ways of doing things.
Decision Making:  Leaders make good decisions based in critical thinking, risk assessment and collaboration.
Innovation: Leaders work with the board to find new ideas.  They look for creative new ways of doing things.  They keep up to date on new trends and technologies.
Change Management: Leaders are flexible and know how to manage change.  They are continuous learners. They are able to change their leadership style to match the situation.
Motivating and Inspiring: Leaders model the behaviours that they want to encourage and always represent the board well. Leaders "walk the talk".  They set standards and expectations and measure outcomes.  They reward and celebrate successes.
Commitment:  Leaders work towards a balance between their personal life, work and board duties.  They put energy into their role on the board and motivate other board members to do the same.
Integrity: Leaders are reliable and trustworthy.  They inspire trust in others, instill a sense of ethics, fairness and equality, and ensure board operations are transparent.
From Ontario Ministry of Agriculture, Food and Rural Affairs. Being an Effective Leader for Your Organization, Factsheet 16-003. Toronto, ON: Queens Printer for Ontario, 2016.
Communication Style
An effective leader is able to identify communication styles within themselves and in others.  A single leadership approach will not be effective in every situation, so leaders must be flexible and adaptable. They evaluate each circumstance and choose which style to use for each situation.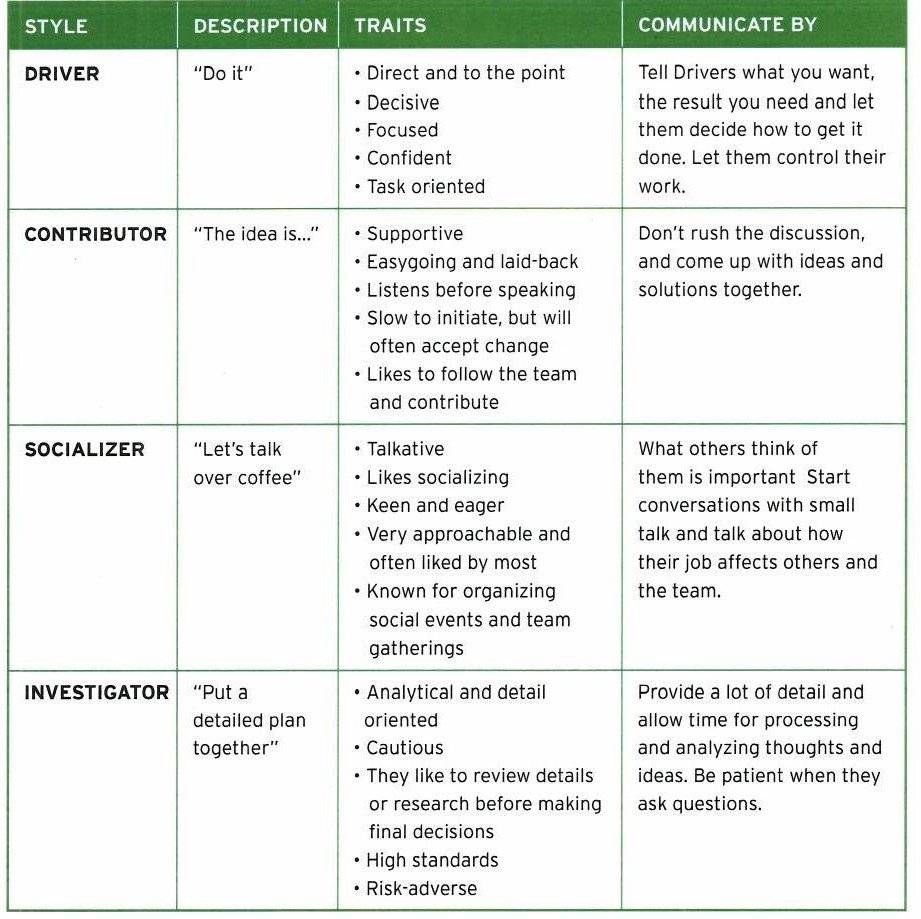 From  Human Resource Management for Agriculture Organizations (PDF 1.97MB)   
Ask good Questions
Effective leaders do not have all the answers.  But they can learn to ask good questions in order to get ideas and suggestions from the entire board.  This helps to work towards the organizations vision, to experiment with new approaches and to problem solve in innovative ways.  Here are some examples:
What if . . .  .?

What are other ways of doing this?

What can we do right now?

What is the real challenge for you?

What are your thoughts and ideas about this?

What is your opinion?

Who else can we include or ask?  Who are the stakeholders?

How can we improve? Change?
From Ontario Ministry of Agriculture, Food and Rural Affairs. Being an Effective Leader for Your Organiztion, Factsheet 16-003. Toronto, ON: Queens Printer for Ontario, 2016.
Developing Your Leadership Skills
Becoming an effective leader is a process and great leaders never stop learning new things.  Continue to learn transferable skills and put them into practice every day.  Take the time to evaluate yourself and identify skills you can improve. Network with other leaders and share experiences and advice.  Learn from mistakes
Think about your role as a leader each day:
What am I expected to do?

Why is it important?

How can I create the spark to motivate and inspire others?

How can I build and strengthen relationships?

How can I help others improve and develop skills?

What change can I anticipate?

Where can I go to get help?
Other Related Links:
 For further information please contact leadership@gov.mb.ca.