Managing Dry Conditions for Crops and Livestock
  Dry Conditions and Crops
   Dry Conditions and Livestock
    Farm Management

Farm management resources are available to help in determining the value of straw or a crop harvested as silage or greenfeed. Decision making tools can also assist livestock producers in weighing their options in managing a forage shortfall.
Cost of Production guides are available for different grain and silage crops.

The Straw Cost Calculator can help determine the NPK dollar value of the straw as a crop fertilizer.
The Forage Purchase Calculator provides a method of comparing the pricing for baled forages and piled silage. This calculator takes into account different moistures and adding in the cost of freight to see what feed purchase is more economical after freight is factored in.
The Managing Low Forage Supplies Calculator estimates the forage needed for the herd based on animal category and weight, and identifies the shortfall. It identifies 8 different potential rations to fill the shortfall on a least cost basis that help decide the economics of buying greenfeed compared to hay, straw, and other alternatives.
   Manitoba Hay Listing Service
Groundwater Conditions for a Potential Well - Livestock producers can contact the Water Branch for information and advice on their current well and what the expectations might be if constructing a new well to supply their pasture. Email your contact information and the legal land location of the planned well to Expected Groundwater Conditions. Feedback provided may include aquifer depths, potential pumping rate range, and if available the water quality in the area. A listing of Licensed Well Drilling Contractors is also available.
  

  Manitoba Drought Monitor
The Manitoba Drought Monitor highlights the various drought management efforts currently underway in Manitoba. This includes monthly Water Availability and Drought Conditions Reports that use drought indicators to classify the level of dryness and to summarize any drought impacts that are occurring.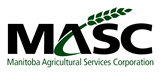 The current hot and dry conditions are a major challenge for grain and cattle producers in Manitoba. One option is to convert annual crops to livestock feed. The AgriInsurance program provides flexibility for producers to put their crop to alternate use during the growing season. Alternate use means a change to the use of a crop from what was originally intended when planting in the spring. For example, if a producer indicated on their Seeded Acreage Report that they were growing oats for grain but choose to cut it for greenfeed instead, this would be considered alternate use. If producers are considering putting a crop to alternate use (i.e. silage, greenfeed, grazing) for their own use or someone else's, contact an ARD and MASC Service Centre for more information.
The information on the website will be continually updated as the season evolves to provide the most up to date resources as well as inform clients about upcoming webinars and MASC programs and deadlines. Weekly tweets will be coordinated so that clients have the resources they need to do their jobs effectively.